SIGNIFICANT' INCREASE IN CYBER CRIMES AGAINST WOMEN DURING LOCKDOWN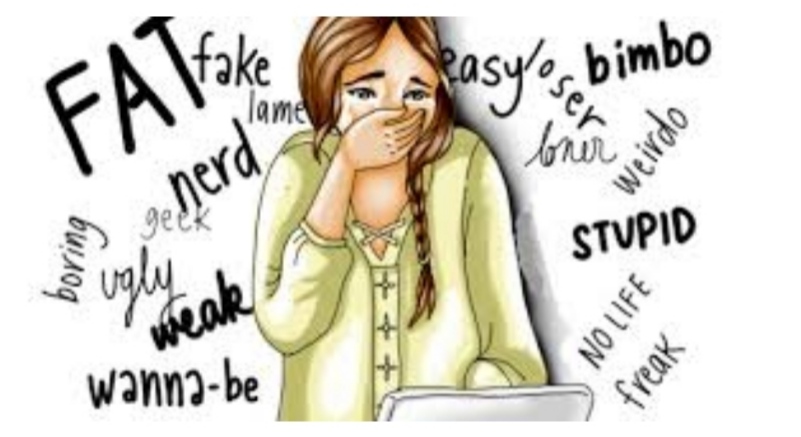 Significant' Increase In Cyber Crimes Against Women During Lockdown
– Kajal Sharma
"ONE SINGLE VULNERABILITY IS ALL AN ATTACKER NEEDS"
– SNYDER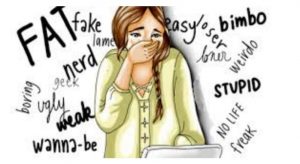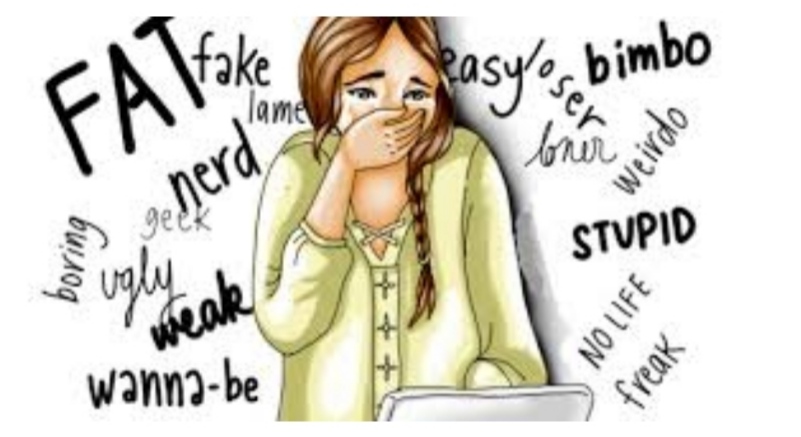 Women were never neither regarded nor treated same as men, their capabilities ,their importance as well aspirations were often put to questions, and she has to go under go alot of changes , pain ,agony doubt ,at almost every point of their life just to prove her credibility and worth . Women are often perceived as weak, disgraceful, unspeakable, and good for nothing in this patriarchal world. In the current scenario, women are already being oppressed and the rising abuses are being seen across the world . It shows the degree and severity of women's monstrosity over several years. The ongoing initiative to eradicate harassment of women is evidence of this.
Impact on the quality of life, preferences about style of living, imbalances in economic growth, social changes and a poor social basic oversight contribute significantly to the malevolent mindset towards women that has led to the synchronization of crimes against women. In fact, many major social and economic irregularities have been taken as conditions and criteria, complemented by various changes to current legal laws in order to cope effectively with these offences. The abuses, harassment and crimes in India and several other countries are rising enormously in multiple national lockdowns due to the ongoing pandemic of corona virus
COVID & CYBER-CRIME AGAINST WOMEN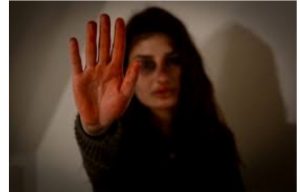 The outbreak of COVID 19 has impacted the bulk of the countries around the globe, with Indian women diagnosed more than 19,000 so far. In view of the possibility of COVID19, the government declared an initial 21-day lock-up in the whole of India, starting on 25 March 2020. The lockdown still isn't uplifted completely as of now. During this period, all private and public workplaces have been shut down and the majority of staff worked from home, making data protection the next big issue and matter of problem. The confidentiality of companies is at stake, because the employees are made available from their own home and comfort places the information such as finance information, business secret plans, customer data, accounting data and all other sensitive data.
The possibility of being contaminated with the covid-19 virus is predominant in the minds of most citizens. But you don't need to be protected from this danger alone. Hackers use notable ways to deceive internet and electronic users by using pandemic of corona-virus as as shield .
VARIOUS CYBER CRIMES AGAINST WOMEN
The only term stalking means to consistently following any particular person over a protracted span of time. This activity also involves the harassment or threatening behaviour as well. Approximately every one out of six women in her lifetime have experienced the agony of stalking. Women are almost double probability of being stalked than men. Stalking is surely be a crime.
Cyber stalking is an offense of criminal nature . Cyber stalking is where there's an entanglement of two persons- Firstly, the stalker who is additionally referred to as attacker who do the crime & Secondly, the Victim who is harassed by that stalker. Cyber stalking is additionally referred to as cyber crime.
A cyber stalker's totally relies upon the invisibility given by the net, which allows them to stalk their victim without being detected. The cyber stalking is completely different from the spamming of the messages by the spammer. Cyber stalking is actually a heinous crime and there are many cases against it in India.
Section 67A has created a special type of content called 'sexually explicit act.' Publishing, distributing or allowing any information to be distributed is punishable by imprisonment for the first conviction up to five years and a sentence of up to seven years and a fine for the second conviction.
In the case of cyber stalking in India, section 500 of the Indian Penal Code which deals with punishment for defamation can be applied if the stalker forges the victim's personal information to publish an obscene message or statement on any electronic media.
Stalking "as an offence under IPC (Indian Penal Code) Section 354 D.
This act provides under this section that, any man who :
I. Contacts and follows a woman or attempts to contact such woman to repeatedly proselytize personal communication despite being clear indication of disinterest by such woman or;
II . Perceives use of the internet of any women , instant messages, e-mail or any other form of electronic communication is a stalking offence
Kalandi Charan Lenka v State of Orissa
Letters were sent with derogatory accusation and a description that denigrated the victim girl's identity. The texts not only affected the victim girl's behaviour but also linked the other male members to the victim girl for having sex. The Cyber Cell of the Crime Branch had investigated the same issue, and the High Court held that the accused was prima facie liable for sexual harassment offenses under Section 354A, 354D for cyber stalking under the Indian Penal Code, 1860, Section 66-C for identity theft, Section 66-D for impersonation and Section 67 and 67 for electronic transmission of obscene and sexually explicit content. Hence the bail application was also dismissed

Cyber pornography basically includes within its ambit : an act of creating cyberspace somersault, displaying, distributing, importing, or publishing pornography or obscene materials. Traditional pornographic content was replaced by online pornography, with the dawn of cyberspace. In several countries it has been banned and allowed in minuscule. In India, this is a waxen area in law under the Information Technology Act , 2000, where it is not forbidden but not legalized either. Online pornography is also known as digital pornography, where Indians punish the publication or dissemination or dissemination of pornographic material through digital media such as social media, e-mails, etc.
In the popular case of Avinash Bajaj v.State (also known as Bazee.com case) the CEO Avinash Bajaj was arrested by a customer for selling the DPS sex scandal video on an advertising. The CEO was then arrested under section 67 of the IT Act. Intermediate guidelines were passed in 2011 whereby the responsibility of an Intermediary will be absolved if they exercised due diligence to ensure that pornographic material is not posted on their site.
Three things made punishable within ambit of Sec 67 , IT ACT 2000
• Publication – It involves posting pornographic material to a website, WhatsApp community or some other internet portal where third parties can access pornographic content of this nature.
• Transmission –Electronically, it means submitting pornographic content to everyone.
• Causing to be published or transmitted – This is a systematic language that will end up making the intermediary site responsible, using which such obscene material was published or transmitted by the perpetrator.
3. VOYEURISM
The Internet has proved to be mankind's greatest innovation. But the transcendental power of the Internet, in the form of cybercrimes, has created the main threat to society. The key perpetrators of the transgression are women and children. Cyber-obscenity crime is not only limited to women as their perpetrators, but children have also become a part and parcel of it either as guilty or as offenders.
Obscenity is often acknowledged as "lewd, impure, immoral and designed to shock man's moral sense by disregarding chastity or modesty. The word obscenity isn't really ambiguous because it's a well-understood word even though people vary in their attitude to what's obscene and what isn't.
The Indian Penal Code had not clearly defined the words obscene and obscenity. Section 292 of the IPC only states that if any material taken as a whole is lascivious or appeals to concupiscent interest and tends to deprave and corrupt the persons who read, see, or hear the contained matter will come within the ambit of obscenity. In addition, IPC Section 294 punishes a person for having committed obscene act in public. Section 293 also forbids the selling of obscene items to young people, and prescribes the same penalty.
Section 67 of the IT Act sanctions the dissemination of obscene content in electronic form. It should be noted that any obscenity in electronic form can only be prosecuted under the IT Act and not under the IPC, because section 81 of the IT Act speaks of its overwhelming effect over all laws.
In the very case of Avinash Bajaj v. State (NCT of Delhi), provisions of both the IT Act as well as the IPC are considered together when there is need. As the Internet is of a global and diverse nature, Section 75 of the IT Act also deals with issues related to the online transmission of obscene content from other jurisdictions.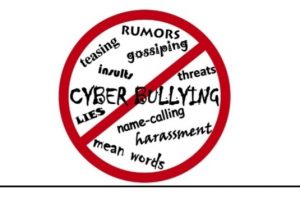 Cyber- bullying has been defined precisely by editor in chief of the International Journal of Cyber Criminology Dr Jaishankar as following:
"Abuse/ harassment by teasing or insulting the victims' body shape, intellect, family background, dress sense, mother tongue, place of origin, attitude, race, caste, or class using modern telecommunication networks such as mobile phones and Internet."
This interpretation can be classified in three aspects.
 Words or gestures of mocking.
 The aim is to eliminate or damage an individual's identification.
 The same is transmitted to a broad audience through phone or online.
Cyber Bullying is claimed to be threatening only if anyone expresses something derogatory such that it will severely hurt their integrity. The potential to bully anyone in public through computers is so scary which ultimately makes cyber bullying very unsafe. The term cyber bullying was firstly proposed by a Canadian professor, Bill Belsey. Cyber bullying is mainly intended to mentally harm and harass people.
VARIOUS KINDS OF CYBER-BULLYING: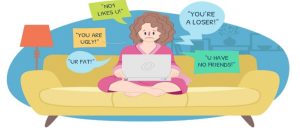 Cyber-bullying has developed in many aspects over time. Several popular cyber-bullying forms are as follows:
• Raging: In emails, instant messages or chat rooms you use abusive language towards a single person.
• Misconduct: receiving comments dull, offensive and/or intimidating.
• Cyber-stalking : track an internet consumer and send emails or tweets to frighten them, harm or threaten them.
• Segregation: Excludes a person from the group and posts malicious comments / messages
• False identity : is used to harm a credibility of a individual and to reveal details about him or her publicly true or incorrect
• Trolling: an entity is deliberately harmed by disrespectful or offensive comments
• Hacking/Frape: Use social networking pages of an person to publish offensive material to harm their credibility.
Here are some other laws to address cyberbullying that can be used:
 Obscene publication or transmission — Sec. 67, IT act
 Electronic publication or transmission of sexually explicit material — Sec. 67A IT act
 A woman's dignity is offended by the term, action or behaviour- sec 509, IPC
 The posting of defamatory electronic mails — Sec. 499 IPC
 Printing, selling, advertising or blackmail grossly unsound or scurrilous matter — Sec. 292 IPC
 Stalking and contact or try to contact a woman — 354D IPC
 Making sexual comments, guilty of sexual harassment offence— Sec 354
 A Privacy breach — Sec. 66E IT act
 Criminal intimidation by anonymous communication— Sec 50 IT act
Manish Kathuria Case : Stealing a person's online identity is an IT Act offense and a cyber bullying form.This is known as the first recorded cyberstalking event in India. The eyes also open to the legislator, as well as why the IT Act 2000 was amended.Manish Kathuria stole the identity of Ritu Kohli and used to talk lewd online in her memory. In the chatroom, he also released her contact number.In Section 509 of the IPC it was meant for outrageing the dignity of a lady, since Section 66A was not yet created
CYBER CRIMES AGAINST WOMEN AMID LOCKDOWN:
There has been a big enhance in cybercrime towards ladies, particularly sextortion, in the course of the COVID-19-induced lockdown with "caged criminals" focusing on them on-line, say specialists. The nationwide lockdown imposed from March 25 to April 14, then prolonged to May 3, and once more prolonged to May 15, goals at stopping the unfold of the novel corona-virus that has claimed 1,147 lives and contaminated 35,043 individuals within the nation.
According to National Commission for Women (NCW) information, 54 cybercrime complaints had been obtained on-line in April compared to 37 complaints – obtained on-line and by submit – in March, and 21 complaints in February. The panel is taking complaints on-line as a result of lockdown.
Cyber specialists, nonetheless, mentioned the numbers are simply the "tip of the iceberg".
"We received a total of 412 genuine complaints of cyber abuse from March 25 till April 25. Out of these, as many as 396 complaints were serious ones from women, (and these) ranged from abuse, indecent exposure, unsolicited obscene pictures, threats, malicious emails claiming their account was hacked, ransom demands, blackmail and more," mentioned the founding father of the Akancha Foundation, Akancha Srivastava.
Vandana Verma, founding father of InfoSec Girls, mentioned when the entire nation is locked down, individuals are working from residence and spending quite a lot of time on the web. So, even cyber criminals have gotten modern and craftier of their strategies, she mentioned.
"Like sending specific phishing emails or themed emails for the current COVID-19 situation to people and getting their confidential details like address, phone numbers. These emails appear to have come from legitimate sources like the government in the form of advisories when they are not at all related to the government in any form," Ms Verma mentioned.
"Creation of fake profiles, cyber bullying, online stalking are bigger challenges at this time. Insensitive comments on posts are also intimidating," she mentioned. Ms Verma suggested that such cybercrimes might be prevented via schooling on know-how.
"How to securely use the digital media, creating strong a password and spreading awareness on phishing emails, fake videos and securely sharing content on the internet can help a lot in safeguarding women," she mentioned.
REFERENCES
• https://www.ndtv.com/india-news/significant-increase-in-cyber-crimes-against-women-during-lockdown-experts-2222352
• https://pehalnews.in/significant-increase-in-cyber-crimes-against-women-during-lockdown-experts/10965/