Eleven gambling culprits arrested by police.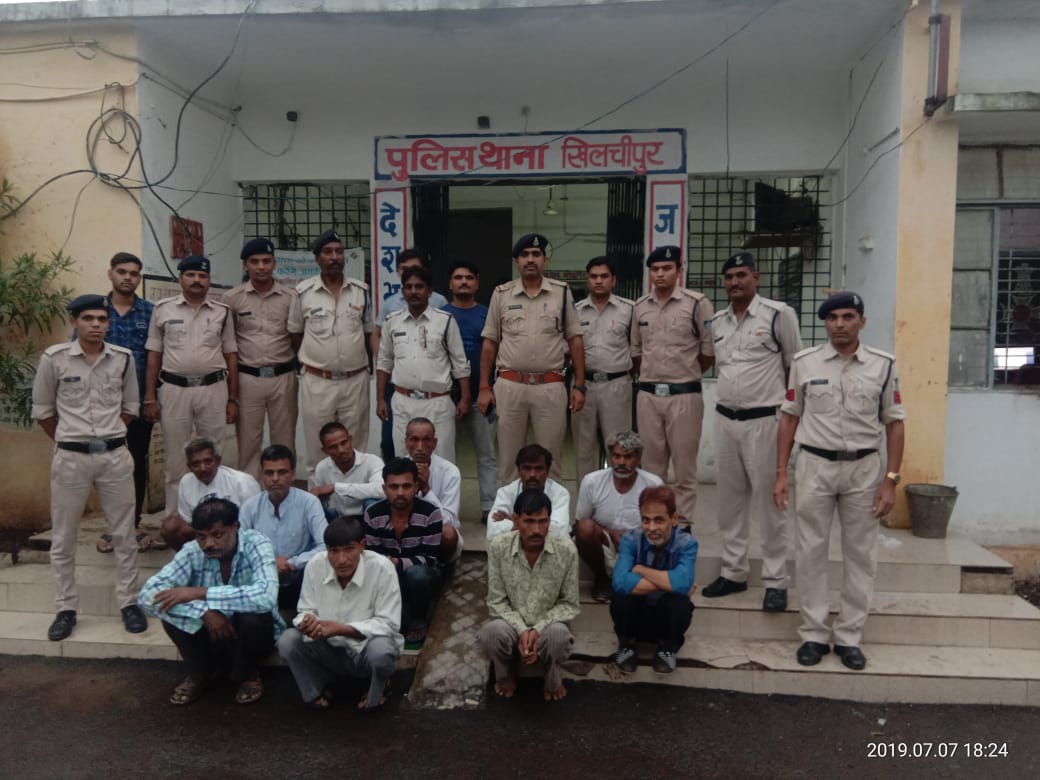 Eleven gambling culprits arrested by Khilchipur police and illegal amount of Rs 17,435 confiscated.
Rajgarh: A strong movement against money gambling, betting, buying intoxicating items and illegally selling alcohol is been executed under the direction of Police Superintend, Mr. Pradeep Sharma. On 7th July, 2019, sources informed that the illegal activity is in full swing at Khilchipur in Madhya Pradesh and hence as per the instructions, the whole police team worked relentlessly to solve this issue.
With the guidance and efforts of Mr. Naval Singh, Additional Superintendent of Police, Nisha Reddy, SDOP of Khilchipur and Virendrasingh Dhakad, Police Station in- charge undertook this task of investigating and catching hold of criminals from different places as told by the informants. Total 11 persons were caught and all the betting materials as well as cash of Rs. 17, 435 was seized from them. Following are the details of criminals:
Sr. No.
Name
Age
Father's Name
Residing Place
1
Devendra Pushpad
25
Punamchand Pushpad
Somvaria, Khilchipur
2
Pushkar Soni
38
Tejkaran Soni
Khilchipur
3
Kalu Singh
45
Gangadhar Sen
Mudla
4
Rajendra Mehta
55
Srinathdas Mehta
Police Road, Khilchipur
5
Kamalsingh Lodhi
29
Shivsingh Lodhi
Surajpura
6
Jagdish Dangi
27
Hajarilal Dangi
Kulikheda
7
Kailash Dhakad
38
Mangilal Dhakad
Somvariya
8
Tejkaran Namdev
38
Shivnarayan Namdev
Ganesh Chow
9
Bhairulal Ahirwar
58
Raghunath Ahirwar
Gadiyakala
10
Vishnu Taanwar
32
Savarlal Tanwar
Pura Khajla
11
Vanshilal Verma
50
Jaganaam Verma
Kulikheda
The criminals were arrested for breaching the Gambling Act and acting against the law. The efforts of police were widely appreciated and they expressed a concern over the increasing gambling activities and a need to reduce their intensity. Adequate action is being taken by the police and proper measures are being introduced to improve the Illegal activities which needs to end as soon as possible.