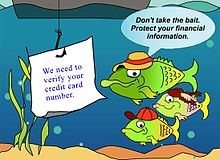 THINK BEFORE YOU LINK
-By Shruthika
Phishing is a form of fraud in which an attacker masquerades as a reputable entity or person in email or other forms of communication. Attackers will commonly use phishing emails to distribute malicious links or attachments that can perform a variety of functions. Some will extract login credentials or account information from victims.
Deceptive phishing is popular with cybercriminals, as it is far easier to trick someone into clicking a malicious link in a seemingly legitimate phishing email than it is to break through a computer's defenses. Learning more about phishing is important to learn how to detect and prevent it.
How Phishing works?
Phishing attacks typically rely on social networking techniques applied to email or other electronic communication methods. Some methods include direct messages sent over social networks and SMS text messages.
Phishers can use public sources of information to gather background information about the victim's personal and work history, interests and activities. Typically, through social networks like LinkedIn, Facebook and Twitter. These sources are normally used to uncover information such as names, job titles and email addresses of potential victims. This information can then be used to craft a believable email.
How can you know if you've clicked on a phishing link?
Before you panic, you need to make sure that it was actually a phishing link that you clicked on.
To determine if you've received a phishing link, look for inconsistencies in the sender's email address, links and domains. Hover your cursor over the link before clicking to preview the URL that it leads to (likely in a pop-up near your cursor or bottom corner of your screen). If the domain doesn't exist, that's highly suspicious, and it's likely to be a phishing link.
Other red flags that can identify a phishing link can include unusual or urgent requests and error-filled language within the email itself.
To know for sure if you've clicked on a phishing link, you can also scan your device for malware to see if any malicious files have been downloaded.
What to Do If You Click on a Phishing Link
If you happen to make the mistake of clicking on a phishing link or downloading a malicious attachment, follow these steps to minimize the repercussions.
Disconnect Your Device
Back Up Your Files
Scan Your System for Malware
Change Your Credentials
Set Up a Fraud Alert
Know what a phishing scam looks like
Don't click on that link
Get free anti-phishing add-ons
Don't give your information to an unsecured site
Rotate passwords regularly
Don't ignore those updates
Install firewalls
Don't be tempted by those pop-ups
Don't give out important information unless you must
Have a Data Security Platform to spot signs of an attack