Electronic Evidence and Challenges
Electronic Evidence
By Anurag Kushwaha
Electronic evidence is an evidence that is present in the digital or electronic format. It could be the data stored in a device or shared, transferred or transmitted through an electronic/digital medium. It should be noted that such evidence should be relevant and must be collected lawfully. With the increasing use of technology for various purposes like business, communication, education, etc. the requirement for any organisation to run websites and store some data online or communicate through electronic medium is obvious. While the technology is improving at a rapid pace, a rise is also observed in the cybercrimes that are done on the internet. In a report by National Crime Records Bureau, 2017 alone witnessed a growth of 77% in the number of cybercrime cases that were reported. The cybercrimes mostly include data theft, frauds, cyber stalking, cyber bullying, etc. Hence the importance of electronic evidence and challenges related to it should be studied.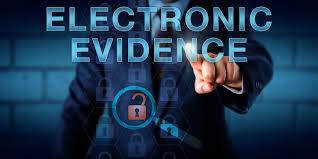 Laws Relating to Electronic Evidence in India:
The Indian Evidence Act, 1872 and the Information Technology Act, 2000 (amended 2008) mention and recognise electronic evidence. Under the Information Technology Act, 2000, the section 2(1) (t) mentions and defines what electronic record is and how is it recognised. Following are some provisions as mentioned under the Indian Evidence Act, 1872:
Section 17: This section defines the admission of evidence, including electronic evidence.
Section 22 A: Under this section, it is prescribed that the oral admission of an evidence, in a digital or electronic format is not relevant unless the genuine nature of it is questioned otherwise.
Section 45 A: This section states that the opinion of an Examiner of Electronic Evidence shall be taken into account while considering any document, data, information or record that is in an electronic format to ensure its validity and to ascertain whether it is genuine.
Section 65 A: This section prescribes that the content in any electronic record shall be as per the regulations mentioned under the subsequent section to amount for an electronic evidence.
Section 65 B: This section specifies some conditions that an electronic evidence should qualify to be valid for presentation in the court as an admissible evidence.
Section 85 A: Under this section, the relevance of an electronic agreement with the authorisation by a digital signature is mentioned.
Section 88 A: This includes the presumption in regard to electronic messages. It is mentioned that the court shall not make any assumption but can presume a message which is sent by an originator, profess to correspond with the one in the computer device for transmission.
The Examiner of Electronic Evidence referred above is mentioned under section 79 A of the Information Technology Act.
It should be noted that as a secondary evidence, there is a requirement for certificate to authorise the evidence and prove its admissibility.
Electronic Evidence and Challenges:
Admissibility: Electronic evidence, although admissible in the court during a proceeding are seemingly prone to challenges in proving their validity. This is majorly because the courts are still trying to cope up with the advent of electronic evidence and their foundation.
Awareness: There is a lack of awareness in many who don't know that electronic evidence and even electronic records can be used for investigation or even used to provide as evidence while filing a complaint against a cybercrime.
Fake Evidence: The role of fraud and fake evidence through the internet or technology is increasing and it is becoming tougher to authorise or verify the role of electronic evidence.
Cases Related to Electronic Evidence in India:
In the case of Anvar P.V. v. P.K. Basheer,[1] clarity was given on the grounds of certain sections in the Indian Evidence Act relating to electronic evidence like section 22 A, section 45 A and section 17.
And in Abdul Rahaman Kunji v. State of West Bengal[2], the question before the Court was regarding the admissibility of electronic evidence in the form of an email sent through the digital medium. The Court's positive stance towards the evidence and its admissibility was indeed strengthening the scope of such evidence.
In Jagjit Singh v. State of Haryana, electronic evidence in the form of several interview recordings for news channels was admissible in the court.
Hence, the admissibility of electronic evidence is largely and widely being accepted nowadays as technology is carrying out its role in seeking justice and also for investigation purposes.
[1] (2014) 10 S.C.C. 473.
[2] (2015) 1 Cal. LT 318.