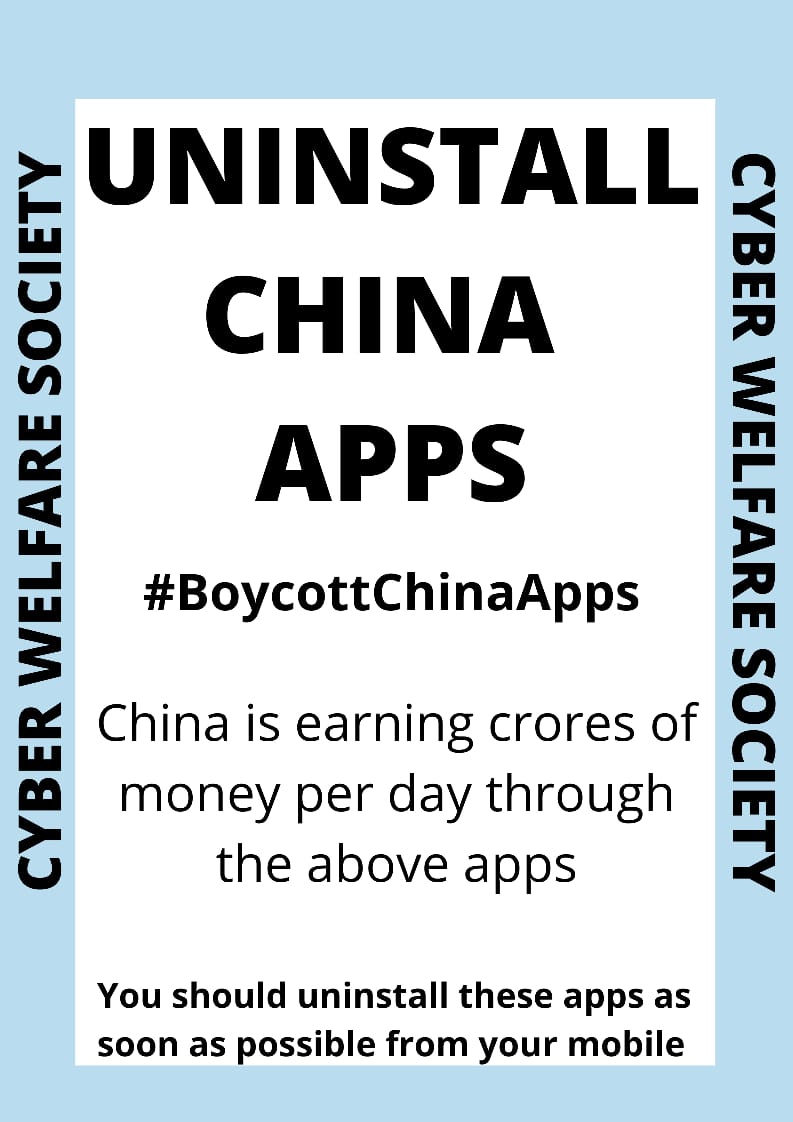 By – Megha Malhotra
Boycott Chinese products or companies chorus is growing across the country amid rising tension between India and China after 20 Indian soldiers were killed during a faceoff with the Chinese troops at the Line of Actual Control (LAC) in Galwan Valley of Eastern Ladakh. Indians have called for a boycott on Chinese goods and the Indian government has pledged to block investment and increase tariffs for China in the aftermath of the deadly border clash in the Himalayas that left 20 Indian soldiers dead and 76 injured.
Massive protest against China is being held across the country with many breaking their TV sets, phones and other Chinese products to mark their protest. Traders' body and several leaders have call for a boycott of Chinese goods. Similar voices were raised by people on social media platforms like Facebook, WhatsApp and Twitter.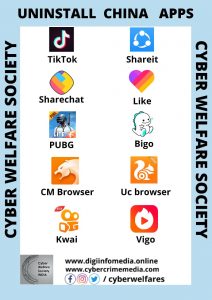 REMOVE CHINA APPS : SONAM WANGCHUK
A couple of days back, Sonam Wangchuk, whose work roused Vidhu Vinod Chopra's  '3 Idiots', posted a video on YouTube saying that Indians should boycott everything Chinese to render retribution for rising strains and tension between India and China. The rhetoric in India grows over Chinese products in the light of the Ladakh tensions, the realities on the ground show the business relationship between Asia's two economic giants is too big — and too complex — for any blanket boycott. As the world battles to manage the inevitable danger of the deadly coronavirus pandemic, Chinese and Indian troops seem to be heading towards a face-off along the Line of Actual Control or LAC. The two nations have sent soldiers to the borders and hostility is by all accounts on the ascent.
Wangchuk believes that the best way to vanquish China is by utilizing "wallet power." In the video, he says that while our warriors are battling Chinese soldiers on the border, we are purchasing Chinese items and products which in turn gives China more cash to invest resources into their military.
Soon after Wangchuk's video went viral, #BoycottChina, #BoycottMadeinChina, #BoycottChineseApps and #BoycottTiktok began trending on social media. Bollywood actor Milind Soman also joined the bandwagon and decided to uninstall Chinese app Tiktok from his phone. Not only Wangchuk, numerous Indians have been harbouring hatred for the Chinese and everything originating from China from the earliest beginning of the coronavirus pandemic. A few even needed to render retribution against China for the same. In fact, numerous Indians have been looking on Google- – how to delete or remove Chinese applications from their phones.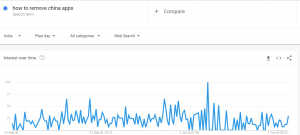 And now, taking advantage of this sentiment, app developers One Touch AppLabs have launched an application, 'Remove China Apps'. The app does exactly what the name suggests. When you download the app, you can run a scan through your phone. It will detect the Chinese apps on your phone and give you an option to delete them. If you click on the red bin icon next to the concerned app, it will uninstall the app from your phone.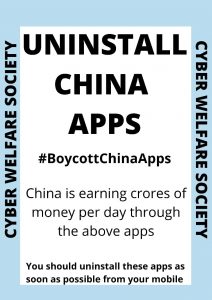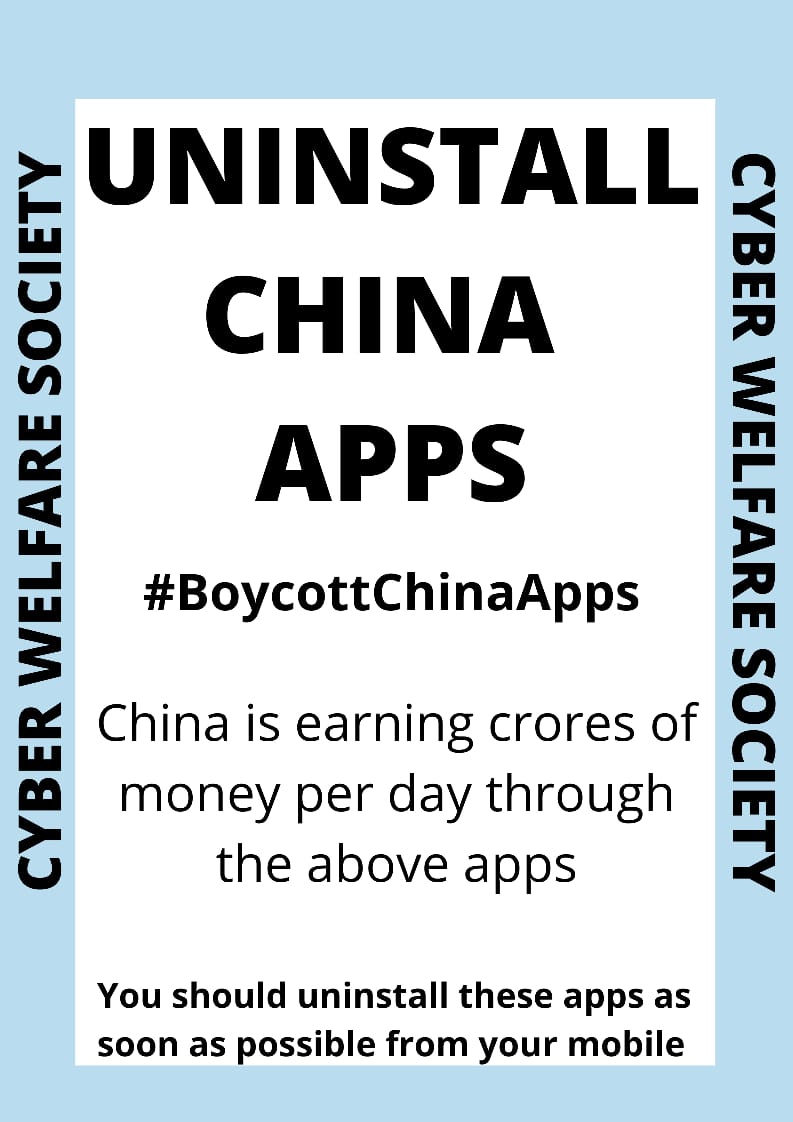 The application, as of now, has a rating of 4.8 on the Android Play Store. It isn't accessible for Apple gadgets yet. Right now, the application has more than 1 million downloads and thousands on positive audits.
In India, the term "boycott" happens to be the tossed around coolly! Here's a reality check. Since 2018, Chinese apps have ruled the market in India with over 50 top apps on play store belonging to China. What's more, indeed, TikTok happens to be one of the most famous applications in India even today, considerably after innumerable calls for bans. In actuality, TikTok is an actual source of income for a few Indians. Given China's massive investments in India, identifying what's Chinese and what's not and finding a competitive alternative appear to be a tough job in the first place.
CHINESE APPS – A THREAT TO INDIA'S CYBER SECURITY
Not to our surprise, Security concerns have been raised over Chinese applications once more and this time it is the Indian Intelligence Agencies that have sounded the alert. The agencies have requested that the central government to block or limit the utilization of 52 Chinese applications and mobile applications linked to China. Here is the complete list of the 52 Chinese apps that have been flagged by India's intelligence officials:
TikTok, Vault-Hide, Vigo Video, Bigo Live, Weibo, WeChat, SHAREit, UC News, UC Browser, BeautyPlus, Xender, ClubFactory, Helo, LIKE, Kwai, ROMWE, SHEIN, NewsDog, Photo Wonder, APUS Browser, VivaVideo- QU Video Inc, Perfect Corp, CM Browser, Virus Cleaner (Hi Security Lab), Mi Community, DU recorder, YouCam Makeup, Mi Store, 360 Security, DU Battery Saver, DU Browser, DU Cleaner, DU Privacy, Clean Master – Cheetah, CacheClear DU apps studio, Baidu Translate, Baidu Map, Wonder Camera, ES File Explorer, QQ International, QQ Launcher, QQ Security Centre, QQ Player, QQ Music, QQ Mail, QQ NewsFeed, WeSync, SelfieCity, Clash of Kings, Mail Master, Mi Video call-Xiaomi, Parallel Space.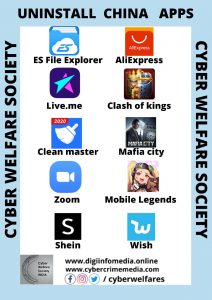 This recommendation of the Indian Intelligence Agencies was recently also supported by the National Security Council Secretariat. The NSC Secretariat believed the data transfer taking place through these apps to be potentially detrimental to India's security. The attached risk to each of these apps is now under evaluation
According to the report, the insight authorities and intelligence officials have discovered inputs on the Android and iOS variants of these applications having the capacity to be utilized as spyware or otherwise malicious ware. Numerous applications, either created by Chinese or propelled by organizations with Chinese connections, convey such potential, as per India's insight authorities. Since the content moderation as well as the privacy and security controls of such apps are based in China, security agencies have advised against their use in view of the "detrimental impact that this could have on data security."
CHINA'S TECH PRESENCE
In tech space alone, China-linked investments have seen a rise in recent times.
A report published by Gateway House, a think tank associated with the Indian Council on Global Relations, estimates $4 billion of Chinese tech investment in Indian startups. As many as 18 of India's top 30 unicorns (startups valued at more than $1 billion), most of them tech-driven, are now Chinese funded, it noted. Published in February, the report lists 92 major startups in India funded by the Chinese.
In the primary phase, Chinese technology majors entered the Indian market. Among the most active investors have been e-commerce giant Alibaba, which has, together with its affiliate Ant Financial, invested in five Indian unicorns. The first was Paytm, an online payment provider, which later spun off its marketplace business Paytm Mall and thereby allowed Alibaba to establish a direct presence in the Indian e-commerce space. Alibaba invested in another online market place, Snapdeal, and subsequently started venturing into the grocery and food delivery businesses by backing BigBasket and Zomato. Beyond the five unicorns, significant investments include the logistics startup XpressBees and the online ticket platform TicketNow. Alibaba's native rival Tencent, which is best known for WeChat and operates a broad array of online services (e.g. social networks, gaming, online payments, news) in its home market, has invested in six Indian unicorns. The funded startups are active in a variety of fields, such as messaging (Hike), ride-hailing (Ola), edutech (Byju's), food delivery (Swiggy), gaming (Dream11). Tencent further participated in funding rounds of the former e-commerce unicorn Flipkart, and invested in startups active in online travel (Ibibo), digital banking (Nivo) and music streaming (Ganaa) domains.
Three additional major Chinese players have become active in the Indian startup ecosystem, but made fewer investments. Meituan-Dianping (which has Tencent as its major backer) is e-commerce platform, which offers various services such as on-demand delivery, car-hailing, bike-sharing, hotel and travel booking, movie ticketing. The company has invested in one Indian unicorn, Swiggy. In addition, Meituan-Dianping launched the bike-sharing system Mobile in India, and entered into a strategic partnership with OYO Rooms, which is now the second-largest hotel group in China. Another investor, Didi Chuxing started as a ride-hailing aggregator expanding to services such as bike and car rentals, shuttle services, food delivery, financial services, among others. The company has into two Indian unicorns: Ola, which is active in its core business, and OYO Rooms. Furthermore, Fosun offers diverse services, including industrial operations, asset management, insurance and real estate. The conglomerate has invested the unicorn Delhivery, which has become a major logistics player in India. Fosun's portfolio further includes startups in online travel (MakeMyTrip, Ixigo), fintech (Kissht) and pharma (Gland Pharma) domains.
To summarize, the most recent couple of years have seen Chinese financial investors deepening their drive into the Indian startup environment. Leveraging their budgetary assets just as profound expertise based on their encounters in the home market, they help Indian local startups develop huge and empower them to compete with other, for the most part US innovation and technology giants. Henceforth, Chinese players are indirectly taking an interest in the opposition for worldwide technology leadership.
STEPS TAKEN TO CONTRIBUTE IN "BOYCOTT CHINA"
• Indian government officials said they plan to impose higher trade barriers and raise import duties on around 300 products from China. India currently has a $59.3bn (£47.7nb) trade deficit with China, with 11% of India's imports coming from China.
• The Indian Telecom Ministry ordered government telecom providers and other private companies to ban all future Chinese deals and equipment upgrades. Chinese companies will also be banned from participating in tenders for future projects, which is likely to include plans to upgrade 4G services in India.
• Calls for a boycott of Chinese goods, technology and investment have been growing in India since early May, when Chinese troops began to build up in disputed territory in Ladakh, and violent skirmishes and stand-offs occurred between troops on the ground. An Indian-built program that helps users identify and delete Chinese apps on their phones was downloaded more than 5m times in May before it was blocked by Google.
• Traders' body calls for boycott of 3,000 Chinese products over 'continued' border clashes. Confederation of All India Traders condemned the Chinese 'military aggression' at the LAC and decided to step up its nationwide campaign to boycott Chinese goods.