"WhatsApp will be off From 11.30pm to 6:00 am daily" IS IT FAKE OR REAL?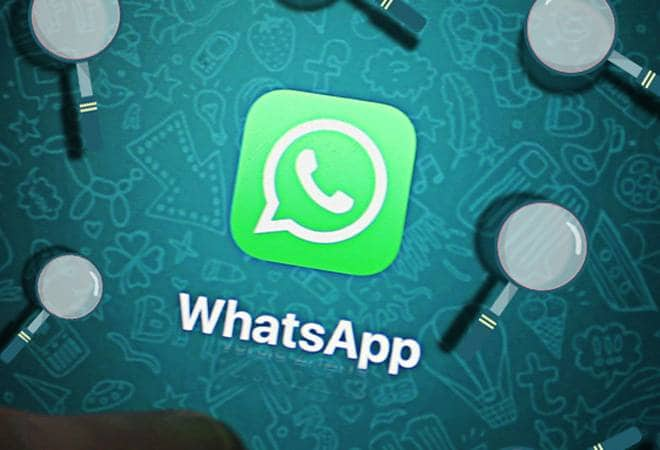 The excessive usage of apps has also made people vulnerable to fake messages. People believe these messages so easily without giving a minute's thought and blindly press the forward button!
This monstrous cycle quickly spreads this message and causes anxiety and nervous breakdown to many, even though it is a false message.
For example, one such message forward among many in India is as follows-
What's app will b off From 11.30pm to 6:00 am daily
Declared by central govt. Message from narendra modi (PM) we have had an over usage of user names on whatsapp Messenger. We are requesting all users to forward this message to their entire contact list. If you do not forward this message, we will take it as your account is invalid and it will be deleted within the next 48 hours.  DO
NOT ignore my words or whatsapp will no longer
recognise your activation.

If you wish to re-activate your account after it has been deleted, a charge of 499.00 will be added to your monthly bill. We are also aware of the issue involving the pictures updates not showing. We are working diligently at fixing this problem and it will be up and running as soon as possible.

Thank you for your cooperation from the modi team. WhatsApp is going to cost you money soon. The only way that it will stay free is if you are a frequent user i.e. you have at least 50 people you are chatting with. To become a frequent user send this message to 10 people who receive it (2 ticks) and your WhatsApp logo will change color. send this to 8 people to activate the new whatsapp..
Saturday morning whatsapp will become chargeable. If you have at least 10 contacts send them this message. In this way we will see that you are an avid user and your logo will become blue (?) and will remain free. (As discussed in the paper today. Whatsapp will cost  0.01€ per message. Send this message to 10 people. When you do the light will turn blue
otherwise whatsapp will activate billing.
ITS TRUE …… U get blue TICKS
Do you think this is a true message?
First of all the government would never send such messages about an app on the app itself, it would issue a more formal statement, maybe through press.
It will write the message in a formal way, with complete words with no short cuts and refer to the Prime Minister of the country as PM Narendra Modi or refer to their organisation as PMO and not as any other name.
Whatsapp logo has never turned blue as mentioned and if it was going to be changing to a paid app, the PMO wouldn't give the information. Instead WhatsApp itself would spread the message through press statement and from its own official social medai account. If the India Government was going to issue any statement based on this hypothetical information, it would obviously be from the Ministry of Information and Broadcasting, definitely not the PMO.
Another forwarded message on WhatsApp is as follows-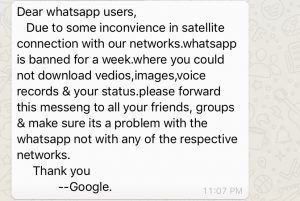 Dear whatsapp users,

Due to some inconvience in satellite connection with our networks.whatsapp is banned for a week.where you could not download vedios,images,voice records & your status.please forward this messeng to all your friends, groups & make sure its a problem with the whatsapp not with any of the respective networks.
Thank you
–Google.
Do you think this is a true message?
First of all, why would an International company like Google use short forms of words like 'u' and make a spelling mistake like ' vedios' ? Why would Google send a message on WhatsApp instead of publishing it through an International news website?
Please think about such logical questions.
Instantly you will realize this is such a clumsy, fake message.
PLEASE READ MESSAGES BEFORE YOU FORWARD THEM.
YOU MAY EVEN SAVE MILLIONS OF LIVES BY DOING SO.