Aggressive Religion Promulagation through hate crime
What is lynching?
Lynching is a premeditated extrajudicial killing by a group. It is an aggressive way to send a message. An extreme form of informal social groups who want to propagate their beliefs through mass killings with a display of public spectacle. Mob lynching has become one of the primary issues in the world.

Source: Youthingcmag.com
A recent alarming incident
India is an ethically diverse state. As a result, people's beliefs clash in such an environment. Recently a lynching case took place in Jharkhand. On June 18th, a man named Tabrez Ansari was attacked by a mob. He was suspected to have been involved in a theft in Kharsawal district of Jharkhand. He was beaten up for 18 hours before being handed over to the police. Videos of the violent act was circulated in social media where the victim was forced to chant "Jai Sri Ram" and "Jai Hanuman". In a public turmoil, some of the villagers allegedly involved were arrested on suspicion of murder. However, the lethargic conduct of the police and unspoken acceptance of mob justice as a way of life in some parts of the country. The police department took him into custody based on a complaint of theft. Ansari's injuries and assaults were not mentioned in the FIR. After his conditions deteriorated in jail, he was taken to the hospital where he died.
Lynching is an upsetting consequence of collective narrow-mindedness. Social media has played an important role in promoting mob-lynching through fake news and hate messages. In most cases, facts are not checked, and violence occurs. Last year, the Supreme court emphasized that "rising intolerance and growing polarisation expressed through a spate of incidents of violence cannot be permitted to become the normal way of life or normal state of law and order". The states were asked to exercise preventive and corrective measures. Special laws should be made to deal with lynching. The supreme court suggested to assign one nodal officer in every district to tackle the menace.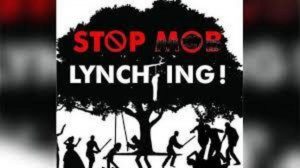 The Ansari incident shows that the problem has transformed into a baleful form of promulgating religious conviction. Eleven people are already arrested in connection with the case and a special investigation team is analysing the incident.
After the alarming case of Ansari's death, a social activist of Jharkhand namely Harsh Mandar has filed a Public Interest Litigation (PIL) petition in Jharkhand High Court seeking measures to curb mob-lynching. In his petition Mandar urged for: –
Preparation of a mob-lynching compensation scheme under provisions of Section 357.
Designation of lynching cases in district courts where they are tried every day. Judgement must be passed by 6 months.
Broadcasts on television and other media platforms that offence of lynching bear serious and punishable consequences.
Ensuring that families of the victim receive impartial compensation.
Sources: www.indiatoday.in