Advisory For Agent Smith Malware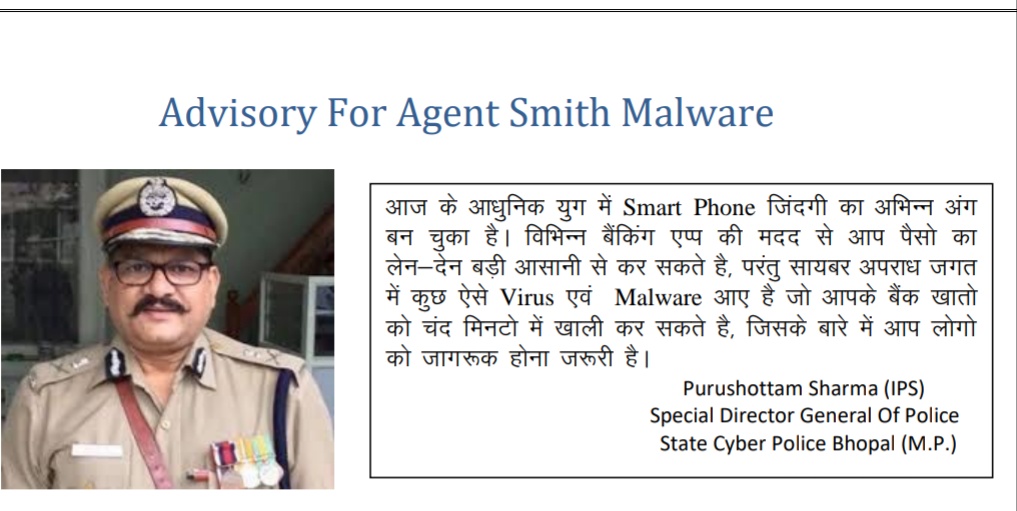 In today's modern era, smartphones have become the integral part of human life. People can easily exchange their money with the help of various banking apps but on the other hand there are also some viruses and malware which can evacuate your bank account in few minutes and regarding which you need to be aware of. – Purushottam Sharma (IPS) Special Director General of Police State Cyber Police Bhopal (M.P).
India encountered the attack of Agent Smith Malware with approximately 1.5 crore android phones followed by 3 lakhs in America and 1,37,000 in England. Agent Smith Malware enter the user's smartphone through the apps download from third party app stores. This malware entered the smartphone through 9apps.com which is the part of Alibaba group of China. Once this Agent Smith Malware gets installed in the smartphone then it automatically disguise its name like that of a genuine app which then becomes difficult for the user to identify it. This malware can access to any device.
Agent Smith Malware persuades the users to play some attractive financial profitable quiz and portrays money winning advertisements and this malware is majorly used to attain the bank and other confidential details of the user followed by the complete evacuation of your bank accounts. Agent Smith Malware is similar to the Gooligan, Hummingbad and CopyCat Malware.
How to stay safe from these malicious apps?
In order to remain unaffected from these malware, banking apps and other apps should be downloaded from trusted app stores only and not from third party app stores so that no malicious apps gets downloaded in your smartphones. Make sure to enquire enough before downloading any apps and don't forget to read the reviews both positive and negative.
An anti-virus must be installed in the smartphones in order to scan all the apps and remove the bad apps from your smartphones.
Make sure to examine all the terms and conditions and access control of the suspicious apps before installing them and keep all your personal data in the encrypted form instead of the plain text.
Keep your passwords strong and don't share them with anyone. Do not save your passwords in your mobile phones and keep updating your operating system and apps time-to-time.
Do not use public Wi-Fi, instead go for secure networks and use ad blockers in order to keep malicious ads away.
Editing By – Jasleen Kaur