WHAT TO DO IF YOU ARE BEING STALKED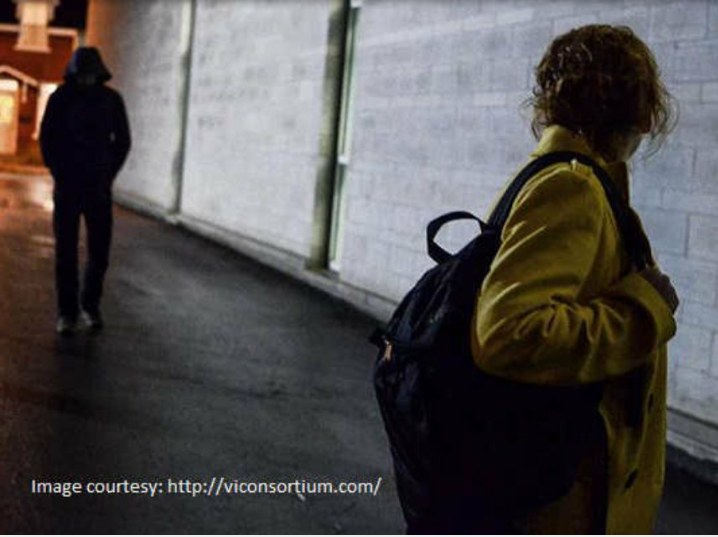 STALKING 
Stalking is unwanted and/or repeated surveillance by an individual or group toward another person. Stalking behaviors are interrelated to harassment and intimidation and may include following the victim in person or monitoring them. Stalking is a series of actions that occur over a period of time. Stalking can be defined as the willful and repeated following, watching or harassing of another person.
Using the Internet or other electronic means to stalk or harass an individual, group, or organization is known as Cyber Stalking. It may include false accusations, defamation, slander and libel. It may also include monitoring, identity theft, threats, or gathering information that may be used to threaten, embarrass or harass.
Cyber stalking can take many forms, including:
harassment, embarrassment and humiliation of the victim
emptying bank accounts or other economic control of the victim
harassing family, friends and employers to isolate the victim
scare tactics to instill fear
Although stalking is illegal in most areas of the world, some of the actions that contribute to stalking may be legal, such as gathering information, calling someone on the phone, texting, sending gifts, e-mailing, or instant messaging. They become illegal when they breach the legal definition of harassment (e.g., an action such as sending a text is not usually illegal, but is illegal when frequently repeated to an unwilling recipient).
Different types of stalking victims dependent on their previous relationship to the stalker. These are
Prior intimates:Victims who had been in a previous intimate relationship with their stalker. These victims are more likely to be exposed to violence being enacted by their stalker especially if the stalker had a criminal past.
Casual acquaintances and friends:Among male stalking victims, most are part of this category. This category of victims also includes neighbor stalking. This may result in the victims' change of residence.
Professional contacts:These are victims who have been stalked by patients, clients, or students who they have had a professional relationship with. Certain professions such as health care providers, teachers, and lawyers are at a higher risk for stalking.
Workplace contacts:The stalkers of these victims tend to visit them in their workplace which means that they are either an employer, employee, or a customer. When victims have stalkers coming to their workplace, this poses a threat not only to the victims' safety but to the safety of other individuals as well.
Strangers:These victims are typically unaware of how their stalkers began stalking because typically these stalkers form a sense of admiration for their victims from a distance.
The famous:Most of these victims are individuals who are portrayed heavily on media outlets but can also include individuals such as politicians and athletes.
In "A Study of Stalkers" Mullen et al. (2000), identified five types of stalkers:
Rejected stalkersfollow their victims in order to reverse, correct, or avenge a rejection (e.g. divorce, separation, termination).
Resentful stalkersmake a vendetta because of a sense of grievance against the victims – motivated mainly by the desire to frighten and distress the victim.
Intimacy seekersseek to establish an intimate, loving relationship with their victim. Such stalkers often believe that the victim is a long-sought-after soul mate, and they were 'meant' to be together.
Incompetent suitors, despite poor social or courting skills, have a fixation, or in some cases, a sense of entitlementto an intimate relationship with those who have attracted their amorous interest. Their victims are most often already in a dating relationship with someone else.
Predatory stalkersspy on the victim in order to prepare and plan an attack.
WHAT TO DO IF YOU ARE BEING STALKED
Keep a record of what happened, where, when every time you were followed, phoned, received post or e-mail.
The more details you have the better, how the offender looked or sounded, what they were wearing, the make, and number plate or color of their car.
Keep letters, and parcels as evidence: even if they contain frightening or upsetting messages, do not throw them away and handle them as little as possible.
Keep copies of e-mails on disk and print out hard copies, do not delete the original.
If you recognize the handwriting, you can keep letters or parcels as evidence without having to open them.
Make sure you keep any stored messages (including text messages) or telephone numbers that you have received on your mobile phone and caller ID units.
Tell your friends, neighbors and work colleagues about what is happening.
Do not speak or engage with them in any way if they're seen taking photos as this may lead to a confrontation.
Avoiding unwanted calls:
Answer the phone by saying 'hello', not your name or number.
Try to keep calm and not show emotion, many callers will give up if they don't think they're making an impression on you or your feelings.
Use an answer machine to screen out calls and only talk to people you want to.
If the caller rings again, put the handset down on a table for a few minutes – the caller will think you're listening. After a few minutes replace the handset, you do not have to listen to what the caller has to say.
If you know or find out who is stalking you:
Do not confront your stalker or even engage them in conversation.
Do not, under any circumstances, agree to a meeting to talk about how you feel about them constantly bothering you.
Do not respond in any way to calls, letters, or conversations
Seek advice from the police, a solicitor or the National Stalking Helpline about what you should do.
BY SAVIT PRIYA: