TEEN SEXTING – THE REAL ISSUE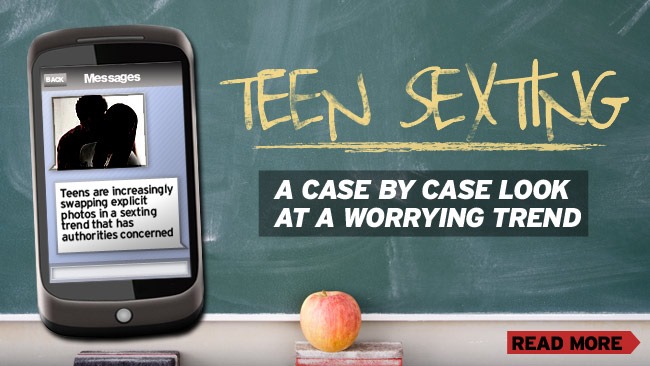 Today the information superhighway is vastly changing. The internet is revolutionizing the way we communicate with each other, and teens are some of the first to experiment with modern technology. With a camcorder, radio, television, camera, and phone all wrapped into one little package called a Smartphone, teens have accessibility to friends and worldly happenings 24/7. While these times can be exciting and exhilarating to adolescents, they can also be dangerous… especially to those who get involved with sexting.

Sex texting, known as "sexting" for short, is basically sending, receiving, or forwarding sexual photos or sexually suggestive messages through text message or email. If a teen owns an electronic device that can take a picture and connect to the internet then they can sext. It's that easy… Plus, it only takes seconds for one picture to make its way to the recipient and surface the internet. Especially in this day and age where digital citizenship is as important as our real world one. Online reputations are becoming synonymous to our everyday one; and one thing's for certain: sexting can tarnish a good reputation…
OVER EXPOSURE:
If you're involved in sexting, STOP! There are too many dangers involved. Delete as many pictures and scrub the internet as much as possible. Ask the person for whom you sent the sext to delete it.
If you're exposed by an act of retaliation, use the following measures to protect yourself:
1. Remove all risky pics from your computer, phone, etc.
2. Ask the person who exposed you to stop in an electronic form. You can use this as evidence, especially if the response is inappropriate.
3. Print out all evidence from the sites you are on.
4. Block those who are determined to take you down.
5.Report any abuse to site operators and ask them to remove pictures.
6. Report it to the authorities if it isn't taken down and take your evidence with you.
7.Google yourself periodically and if you have a mutual friend, have them let you know if pictures resurface on the ex's site.
UNWANTED SEXTS:
Another thing to consider is that people can get unwanted sexts. If this happens, there are some steps you can take to protect yourself:
1.Text or private Facebook message the sender. Go easy the first time you ask them to cut it out. For example, a teen could say something like "Don't send me this stuff, don't you know my mom is constantly checking my messages?" If that doesn't work then go with the direct approach and call or confront the person face to face and tell them to stop.
2.If you feel threatened by the message or photo block the person and cut off all contact with him or her.
3.If he or she still does not stop, get law enforcement involved. Make sure that you keep copies of all messages for your records and evidence if needed.
4.If your teen is getting sexts, then step in and help him/her out. If you suspect your teen is sexting, talk to your phone provider about programs to keep your teen from sending sexts.
Article By – Harshita C.  Jadhav