Overview OF The Information Technology Act, 2000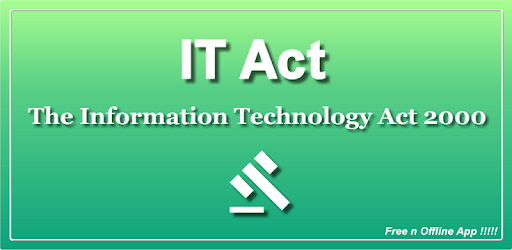 The Information Technology Act was enacted with a view to give a fillip to the growth of electronic based transactions, to provide legal recognition for e-commerce and e-transactions, to facilitate e-governance, to prevent
computer based crimes and ensure security practices and procedures in the context of widest possible use of information technology worldwide. The Information Technology Act will apply to the whole of India unless otherwise mentioned. It applies also to any offence or contravention there under committed outside India by any person.
The Act shall not apply to the following documents or transactions –
 A negotiable instrument as defined in Sec.13 of the Negotiable Instruments Act, 1881;
 A power of attorney as defined in Sec.1A of the Powers of Attorney Act, 1882;
 A trust as defined in Section 3 of the Indian Trusts Act, 1882;
 A Will as defined in Sec.2(h) of the Indian Succession Act, 1925 including any other testamentary disposition by whatever name called;
 Any contract for the sale or conveyance of immovable property or any interest in such property.
Scheme of the Act-
-Chapter– I – Preliminary
– Chapter – II – Digital Signature and Electronic Signature (Sections 3 & 3A) 29
– Chapter – III – Electronic Governance (Sections 4 to 10A)
– Chapter – IV – Attribution, Acknowledgement and Dispatch of Electronic Records (Sections 11 to 13)
– Chapter – V – Secure electronic records and secure electronic signatures (Sections 14 to 16)
– Chapter – VI – Regulation of Certifying Authorities (Sections 17 to 34)
– Chapter – VII – Electronic Signature Certificates (Sections 35 to 39)
– Chapter – VIII – Duties of Subscribers (Sections 40 to 42)
– Chapter – IX – Penalties, Compensation and Adjudication (Sections 43 to 47)
– Chapter- X – The Cyber Appellate Tribunal (Sections 48 to 64)
– Chapter- XI – Offences (Sections 65 to 78)
– Chapter- XII – Intermediaries not to be liable in certain cases (Section 79)
– Chapter-XII A – Examiner of Electronic Evidence (Section 79A)
– Chapter- XIII – Miscellaneous (Sections 80 to 90)
First Schedule – Documents or Transactions to which the Act shall not apply
Second Schedule – Electronic signature or Electronic authentication technique
or procedure
Important provisions of the Act
Digital signature and Electronic signature  digital Signatures provide a viable solution for creating legally enforceable
electronic records, closing the gap in going fully paperless by completely eliminating the need to print documents for signing. Digital signatures enable the replacement of slow and expensive paper-based approval processes with fast, low-cost, and fully digital ones. The purpose of a digital signature is the same as that of a handwritten signature. Instead of using pen and paper, a digital signature uses digital keys (public-key cryptography). Like the pen and paper method, a digital signature attaches the identity of the signer to the document and records a binding commitment to the document.
However, unlike a handwritten signature, it is considered impossible to forge a digital signature the way a written signature might be. In addition, the digital signature assures that any changes made to the data that has been signed cannot go undetected. Digital signatures are easily transportable, cannot be imitated by someone else and can be automatically time-stamped. A digital signature can be used with any kind of message, whether it is encrypted or plain text.
Article By- Harshita Jain
Editing By- Jasleen Kaur