Muslim community unites against mob lynching.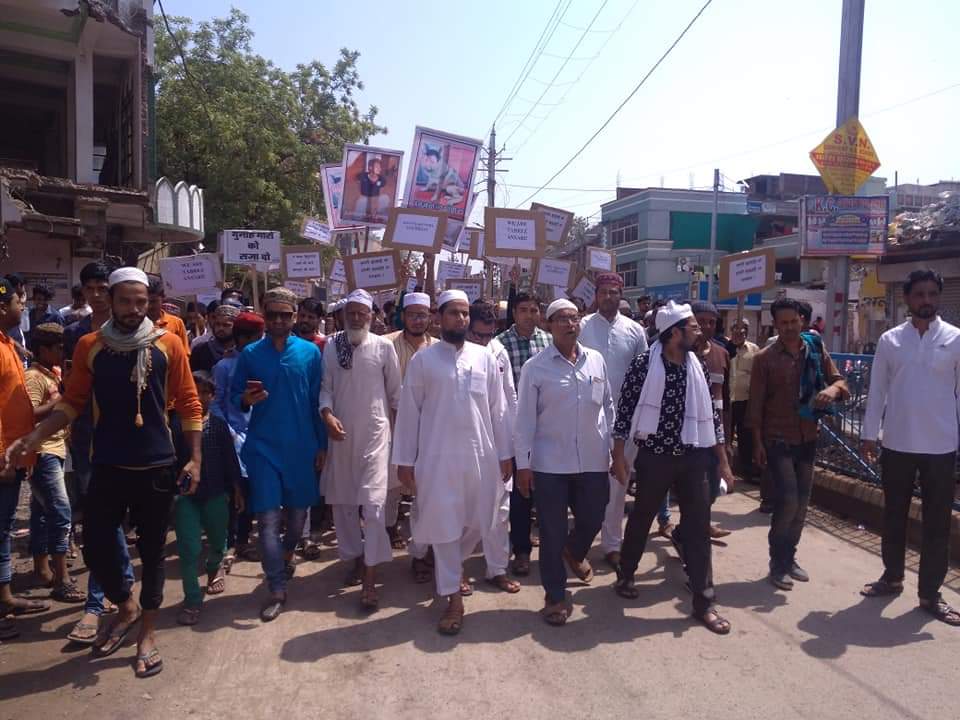 Biaora: In solidarity with the harassments on innocents affected due to religion, Muslim community organized a rally at Biaora city in Madhya Pradesh. They submitted a memorandum to the honorable President Ram Nath Kovind through the Sub- divisional magistrate. Many Muslims participated in this rally and made it successful to propagate the message of security and protection of minorities.
India is a secular country. Does the word 'secular' really stands firm and protected is a question to ponder upon. There are innumerous incidents happening in the name of religion. The memorandum stated that proper action should be taken against those who are taking laws in their hands giving the context of Jharkhand lynching case.
Tabriz Anzari, a local youth in Jharkhand was targeted by a group of people who was accused of robbery. He was then beaten aggressively and forced to chant "Jai Sri Ram". The memorandum also highlighted that such cases are increasing day by day and stringent laws should be implemented against these heinous crimes. Unity in diversity is the nucleus of India and we need to treasure this diversity and at the same time protect the minorities.
The main purpose of the memorandum was to stop mob lynching and establish peace and order in India. The rally gave a clear message to end the Hindu-Muslim conflict and punish those people who are resisting the communal harmony and creating chaos as well as violence. In giving the memorandum, lawyer Shehzad Sheikh, Mushir, Raja, Javed Khan, Sameer, Annu Gori, Mannu Khan, Juber Khan, Umar Gori, Aashiq Mansuri, Sharif, Yusuf, Arshad and many other youngsters were involved. With the initiative of so many scholars and educationists, this rally got immense appreciation which is necessary for the development and positive change.
Source – Atik khan journalist rajgarh.
Editing /Nirmeeti patole.