Justice is a right to every individual despite gender. But, you know there is a gender that is abused alike females but by laws . They are even the ones who are systematically lost because of the gender biased laws and that gender is male . You all must be thinking that how is a male abused as it is " THE DOMINANT GENDER " of our society , then let me tell you , there are laws in favor of women , but sadly , they are turning as a tool against justice of men.
One such law is of Section 498A which states that " Husband or relative of husband of a woman subjecting her to cruelty – whoever being the husband or the relative of the husband of the woman , subjects such woman to cruelty shall be punished with imprisonment for a term which may extend to 3 years and shall also be liable to fine . " In 2015 , it was known as most abused law in history of India . Under this act , more than 23 lakh people were arrested , just because their name was mentioned in complain letters keeping aside the fact that it actually took place or not . After the trial , it was found that barely 15% of the cases were real. Rest of the cases were filed either to drag the family members to jail or to take any kind of revenge from male or his family .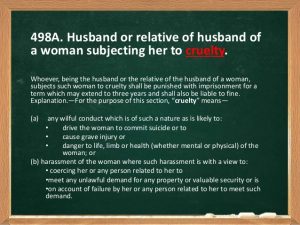 The condition of me on law , is even worst than anything , as there is commission for animals , children and females but no such commission for males . There is no such law for listening to those who actually don't have anyone to listen . In a survey it was found that the suicide rate of married men are double than married women .
Even there is no particular college for men by government like college for women . All the families who have son is not necessary that they could afford private university . There is even need for college of men like women . The government is requested to make GENDER NEUTRAL LAWS in-spite of gender biased laws as men's life is as valuable as women's . And even the females are requested not to use the laws which are in their favor as a weapon against men , or else that day will not be far when the real pain of yours will be considered fake .