Gang arrested by state cyber cell indore for a fraud in the name of insurance.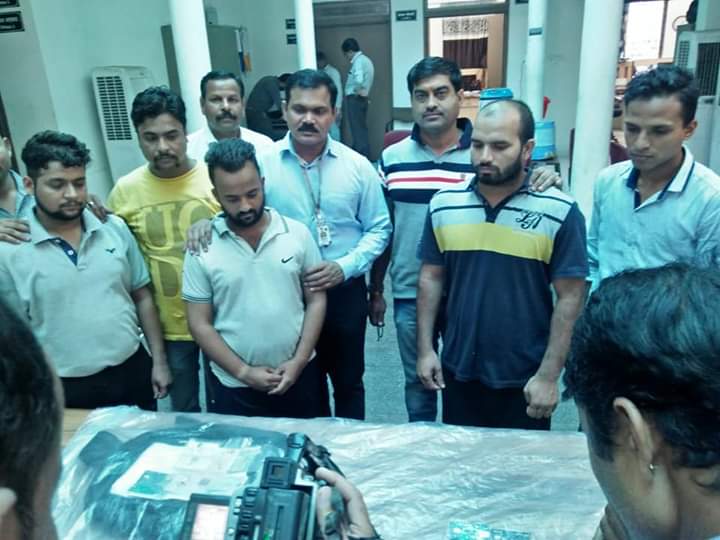 Gang arrested by state cyber cell indore for a fraud in the name of insurance policy of rupess 65 lakh by 75 year old indore resident.
State cyber police DGP shree purushottam sharma give charge to superintendent of police shree jitendra singh and form a special team for insurance and job fraud.
SIT was also directed to expedite action in pending cases by ADG state cyber police shri rajesh gupta.
In this distinction complaintant harikrishna shukla son of Lt. Shri ramshankar shukla resident-28-29 C seva sardar nagar plasiya, with crime no. 144/19 clause 419,420,420 B, 467,468 and 66D IT act was registered and further send for discussion by SIT.
In the team of SIT ambrish mishra, P. r Ramprkash bajpaye, rampal and R. Ramesh bhide was included.
After going to Delhi, by SIT team withdrawal of money from applicant's account was Technical surveillanced and analysis was done .Team got Success when they get to know about three fake identity people who were running Tele calling office for giving loans in janak Puri,delhi (by P.R ramprakash bajpaye and rampal) they stayed in Delhi for 7days and worked as Tele marketing in front of charged gang to know about their daily routine and secret information and held them and bring them back to Indore.
When firstly interrogated accused introduced themselves as
1.varun Kumar s/o Chandra Shekhar Singh aka Suraj Rai aka indersingh
2.jitendra Sharma aka ronak sahu s/o Rakesh Sharma
3.sumit Kumar aka Deepak Bharti.
In police interrogation accused stated that they hide their identities and by using fake name and adresses they issue fake voterid card,pen card, driving license and by those fake documents they open companies and in the name of company they ask people to open current and saving account.
In these fake bank accounts their partners call and ask 75 year old complaint Shri Hari Krishna shukla to invest ruppes in lakhs in different policies by bribing them about more profit and then they withdraw money and distribute among themselves.accused also told that they pay income tax by false means for these fake companies.
SP ambrish Mishra,P.R.ramprakash bajpaye, rampal Manoj rathore and R.ramesh bhide,gajendra Singh rathore,Rakesh bamniya,Dinesh rathore had commendable preface in this case.
The details of the accused are as follows :-
1.varun kumar aka abhishek singh ala abhishek mishra, aka indersingh, aka suraj rao S/o chandrashekhar singh , address K-140 gali no9, rajpuri uttam nagar delhi.
2.sumit kumar aka deepak kumar bharti S/o vijay kumar, address A-5 B/6, bharat vali gali vikas nagar, new delhi.
3.jitendra sharma aka ronak kumar sahu, S/o shri jitendra sharma ,address- WZ-89, sant nagar, tilak nagar, new delhi