FAKE JOB OFFERS : HOW TO AVOID GETTING DUPED IN JOB SCAMS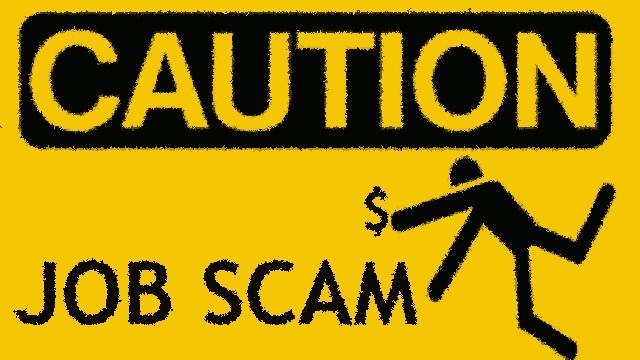 There are as many scams as real job openings online – sometimes it seems like more. How can you tell the difference between online job scams and legitimate job openings?

It can be really difficult to tell the difference between what is real and what's a scam. Scammers are getting more sophisticated and coming up with new ways to take advantage of job seekers all the time.

Before you apply for a job online, especially work at home jobs, review typical job scams and scam warning signs to help you determine if a job is a scam. If you're not sure, take the time to research the company to make sure the job is legitimate.

For most scamsters, online job portals are a popular haunt to find prey. Here's how they proceed:
1. Applicant profiles accessed from job recruitment sites.
2. Mass mailers sent to potential candidates.
3. Fraudsters pose as job consultants, set up fake websites, temporary 'offices'.
4. Candidates are asked to deposit registration fees via wallet or bank transfer.
5. Online or telephonic interviews are conducted.
6. Fake appointment letters are offered.
Victim profile 
These are the type of people who are most likely to fall prey to job scams:
Mostly from tier 2 or tier 3 cities

Graduate from lesser known colleges or institutes

Poor interpersonal communication skills

0-5 year work experience

In their early to mid-20s

Not good at written or spoken English

Not very skilled at their jobs; low professional expertise
Have applied on job portal
Modus Operandi: Approaches Scammers adopt different approaches to find and nail their prey.
1. Phishing & mailing
 This is probably the easiest way for racketeers to find victims en masse . "By posing as freelance job consultants, they scour multiple job portals like Monster, Naukri, TimesJobs and Shine to get access to their databases. They then send mass mailers and, even if they dupe 5% of job-seekers, they make a lot of money. The mails typically ask for a security deposit, interview fee or other charges, a prerequisite for scheduling an interview. While some fraudsters disappear as soon as they get the money, others go so far as to conduct a quick online or telephonic interview before allotting a fake appointment letter.
2. Fake websites
Duplicate websites of reputed companies, job portals or government departments are created to mislead applicants. "They then post fake jobs, conduct tests and upload results, before charging the successful candidates for clearing the interview,". Some even go so far as to set up temporary offices, hiring staffers, conducting interviews, allotting appointment letters and charging fees in installments.
3. Campus placements
Scammers pose as job consultants and directly contact the chairmen of colleges or institutes in small towns. They promise placements in top and reputed firms, and charge a lump sum. They mostly vanish before conducting the promised interviews .
Avoid being duped
1. Go to authentic, official websites.
2. Post CVs with specific job positions
3.Never pay for securing a job.
4. Look for red flags in mail/email.
5. Validate mail by calling firms.
6. Be cautious about jobs that seem too good to be true
Article By – Harshita C. Jadhav
---