E-CONTRACTS: FUTURE OR FAILURE?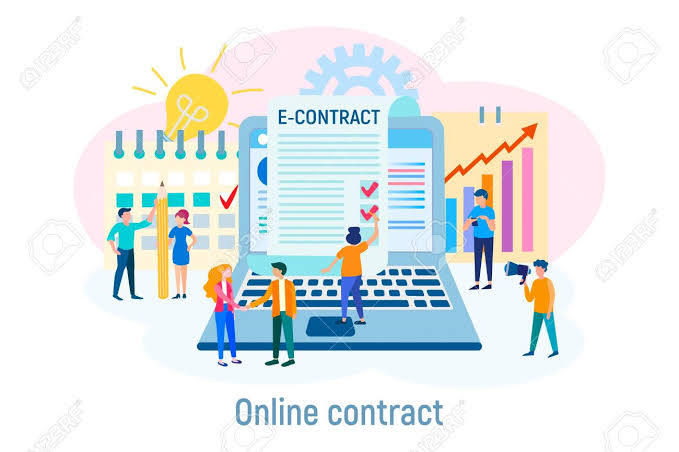 E-contracts: Future or Failure?
By Isha Shukla
Gone are the days when physical formation of contract was required. Now, a contract can be easily formed just by sending the contract online and accepting it by giving digital signature. This is what is called an e-contract or online contract. E-contract is any kind of contract formed in the course of e-commerce by the interaction of two or more individuals using electronic means, such as e-mail, the interaction of an individual with an electronic agent, such as a computer program, or the interaction of at least two electronic agents that are programmed to recognize the existence of a contract. In India, the Indian Contract Act, 1872 governs all the ways and legal procedures in which a traditional contract can be formed. Section 10A of the Information Technology Act, 2000 gives validity to the contracts formed through electronic means. The two parties in an e-contract are the Originator (Offeror) and Addressee (Offerree). The formation of e-contract is much easier and faster than the traditional paper-back and in meeting contract. These are not just used by e-commerce companies. We also become a party to an online contract when we hit the "I agree" option in "End User License Agreement" which is nothing but the terms and conditions that we are subjected to accept, when we install a new software or app on our computer system or mobile phone.
While e-contract seems all good is there a way it can beat the traditional contract? Is e-contract actually a safe and better way of forming contracts? Can it be equal to traditional contracts in terms of reliance? Below are some of the pros and cons of e-contracts-


Pros:
1. Easy formation – An e-contract is easy to form as it has no limitations of physicality. The parties to the contract need not to be in the same room to form it. A company in US can easily get into an agreement with another in India without them sending courier copies or having to meet to sign the agreement.
2. Less expensive than traditional contract – Since these contracts are online there is no expense on printing of the whole contract which is normally lengthy. Transaction cost is also nil since it can be sent directly to the party involved via e-mail.
3. More accurate – Proof-reading and reviewing or verifying a traditional contract can be a time-taking process. Even if it is completed, there are chances of some human errors such as clause error or missing of filling crucial information. In e-contracts, not filling crucial information could create an error page and the person would not be able to continue and sign the document till all the mandatory information is filled. Proof-reading also becomes easy as there are many software to do it.
4. Less time consuming – The offer and acceptance of the agreement can be done in just few hours. There is no need to wait for the reply of the other party through courier. The parties need not meet for signing the contract which saves additional time.
5. More secure – Digital signature are more secure as it cannot be copied. There is also authentication process at every step of e-contract which makes it even more safe and secure.
Cons:
1. Reliance on web – The major issue with e-contracts is that you need a computer system and availability of web to access an e-contract. If you do not have a computer within your reach at a particular time you cannot access your e-contract.
2. Insufficient storage – Some firms have restricted storage on their server which makes it difficult for them to save all the documents. They then rely on third party storage which can become a privacy issue in some other cases the firm may use a server which is not completely protected which would lead to security issue.
3. Risk of system crash – If due to some reason the computer system or the web server crashes, it can lead to deletion of all the data from that system meaning loss of all documents related to the contract and even the contract if it has not been printed.
4. Less secured – Traditional electronic signatures offer less or no security while some offer basic tamper protection. Thus it makes e-contracts even more vulnerable and unsecure.
5. Reliance on third-party proprietary software – Electronic signature used in e-contracts rely on proprietary software, which can be a concern for businesses that do not want to depend on other vendors for contracting as it can lead to security and confidentiality issues.
6. Reluctance to e-contract – Some people still prefer paper contracts. They might not be willing to adopt the idea of an e-contract. They may not have the proper software on their system to e-sign the online contracts or might simply not know how to use them. This makes them reluctant to use e-contracts.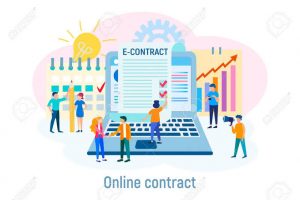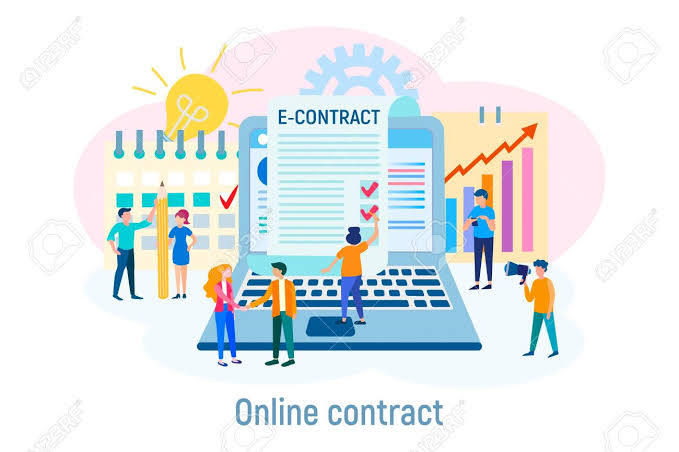 Conclusion
To conclude it could be said that no doubt e-contracts are better in saving time and money and over-powering some limitations of traditional contract but there are still many hurdles that the e-contracts need to over-come in order to become the replacement of the traditional contracts. There are some own disadvantages of e-contracts like security and privacy and confidentiality issues which if it beats, it can surely be the future of contracts or can at least be par with the traditional contracts.