Disguise changed: Kuthiala seen with a beard and moustache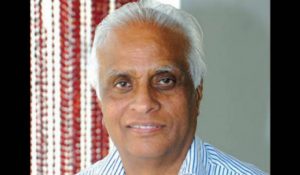 Disguise changed: Kuthiala seen with a beard and moustache . Absconded B.K Kuthiala, ex vice chancellor of Makhanlal Chaturvedi National University of Journalism and Communication was found in Haridwar. He is the criminal of EOW. He is seen with the Pithadishwar Acharya Mahamandleshwar swami Avedhshannad Giri in the viral photo. This photo is taken on guru Purnima on 16 July. EOW is searching for Kuthiala from the last month. They have searched Haryana, Delhi with other cities included.
This photo is of the Ashram situated in Haridwar with Avedhshannad Giri in the day of guru Purnima. Kuthiala has changed his physical appearance. When he was a vice chancellor, he didn't have a beard and moustache. We cannot identify Kuthiala for the first time when we see him in beard and moustache. They say that he already increased his beard and moustache when EOW was searching for him.
Prof. B.K.KUTHIALA
(Summary) Earlier : Director and Professor of Institute of Mass Communication and Media
Technology, Kurukshetra University, Kurkshetra., Professor and Dean of the Faculty of
Media Studies, Proctor, Head of the Department of Advertising and Public Relations.
Also Dean, Faculty of Religious Studies and Head, Department of Religious Studies.
Also performed as Dean, Academic Affairs, Dean, Faculty of Information Technology &
Computer Sciences, Chairman of the Department of Communication Management and
Technology, Department of Printing Technology and also of the Department of Computer
Science and Engineering. Also Chairman, Foreign Student Cell of the University at Guru
Jambheshwar University of Science & Technology, Hisar.
Chief-Coordinator, UGC Special Assistance Programme (SAP) on human resource
development in Internet Journalism. Principle Investigator of major project Research on
the Study of Awareness, Motivation and Mobilisation Roles of Print Media in
Independence Struggle of India.
Article By Damini
Edited By Mahima Gupta