Cyber cell in India – contact and email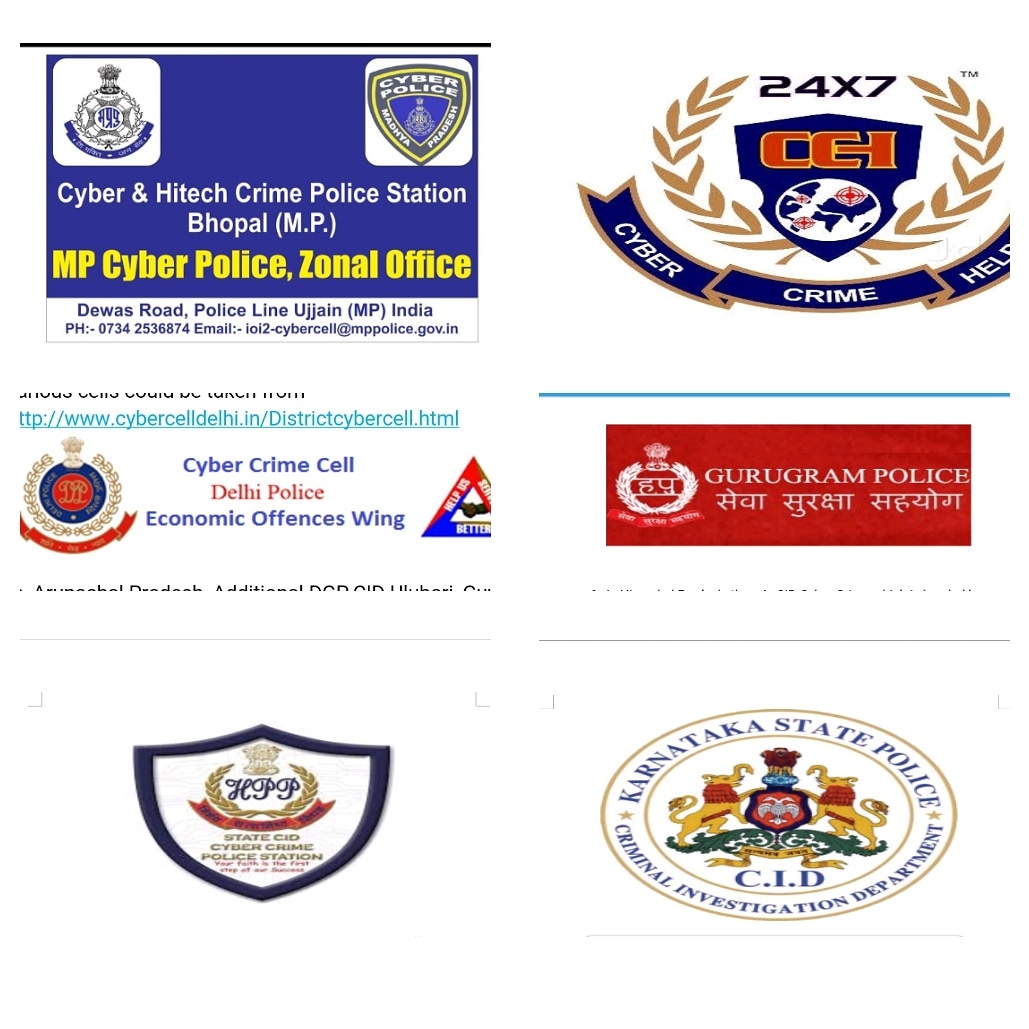 It's High Time To Raise Your voice!!!
Ever sensed cyber stalking, hacking, phishing, DNS Spoofing, Virus Dissemination or Online Harassment??!!
The first and foremost step is identifying what is wrong and right, verify the sources. And in case one feels like being dragged in the vicious circle of cyber crime and thereby making one as a culprit. In such a scenario, the question arises is that to whom the matter should be delated on?
In India, the cases involving cyber crime has seen a multifold increase from past 4-5 years. These reports are registered under IT Act, 2000 (revised in 2008 and 2009).
To help the victimized people who are pressurized by culprits, there are certain groups in India called as Cyber Crime Cells, which aims to provide protection to the terrorized people.
In India, the units are spread as:
In Delhi, there are about 14 Cyber Crime Cells located in various zones of the city. For example in East Delhi- Room no. 11, DCP Office, IP Extension Mandawali, Fazalpur, New Delhi-110092 is the place of reporting a file with contact details as- 011-22232116 and acp-diu-east-dl@delhipolice.gov.in . Further contact information of various cells could be taken from http://www.cybercelldelhi.in/Districtcybercell.html
In, Arunachal Pradesh, Additional DGP,CID Ulubari, Guwahati- 781007 are considered for lodging a report with contact info as: Ph:0361-2521618
Ssp_cid@assampolice.com and arpolice@rediffmail.com
In Andhra Pradesh, the Crime Investigation Department has its Head- Quarters at Office of the Addl.Director General of Police, Crime Investigation Department, AP DGP Head Quarters, First Floor, Mangalagiri, Guntur Urban District 522503, Andhra Pradesh with a contact info as: Control Room 9440700860 and contact@cid.appolice.gov.in,
ciditteamap@gmail.com
And for Regional centes one can find contact at: http://cid.appolice.gov.in/contact
In Gujarat, 4th Floor, Police Bhavan, Gandhinagar HO, Gandhinagar-Gujarat – 382010, Opposite Airforce is the detective agency for Cyber Crime., with a phone number as 079-232505798 and the designated officer attending the complaints is a DIG.
In Haryana, Cyber Cell (Technical Assistant Wing ) is located at CP Office, Sohna Road Near Rajiv Chowk, Gurugram. The Cell is headed by an Inspector rank officer & works under the supervision of DCP Headquarters with contact details as: DCP Crime Ph:0124-2322662 , dcpcrimegrg@hry.nic.in
In Himachal Pradesh, there is CID Cyber Crime which is headed by the Superintendent Of Police, Cyber Crime , State CID, Himachal Pradesh, Shimla-2 with the contact information: 0177-2621714 Ext: 191, 0177-2627955 cybercrcell-hp@nic.in or sp-cybercr-hp@nic.in
In Jammu and Kashmir, IGP and DGP are the in-charge officers with contact info as: IGP: igcrime-jk@nic.in DIG: digcrime-jk@nic.in State Crime Records Bureau: scrbjmu-jk@nic.in
In Karnataka, there are various Regional Cyber Crime Cell, but as the major one is located at Bangalore City, with CEN station's e-mail Id as cybercrimepsbcp@ksp.gov.in and COP's E-mail Id as compolbcp@ksp.gov.inpiccrbbcp@ksp.gov.in and cyber station numbers as- 9480801554, 080-22375522 For further information one can visit at : http://cyberpolicebangalore.nic.in/contactus.html
In Manipur, SP or CID are the persons on desk who monitor the Cyber Crime Branch, Jail Road, 1st bat Manipur Rifle Campus, Imphal- 795001. In order to contact them one can even reach to 0385-2451501,9436027465 or e-mail at cid-cb@man.nic.in
In Maadhya Pradesh, Cyber State Police handles Cuber Cell under the guidance of IGP at Police Radio Headquaters Campus, Bhadadhadaa Road, Bhopal Road. If someone requires to contact them can reach at 0755-2770248
In Punjab, there are also various Cyber Crime Cells but the major one is located in SAS Nagar headed by Senior Superintendent of Police , District Administrative Complex ,
Sec-76, SAS Nagar Mohali-160071, Punjab; with Modern Control Room: 0172-2210357-358, (M) 9115516068
District Control Room : 0172 2219211-212
In case one feels suspicious, one should directly head to the respective stations before it is too late.
Remember,
"Crime Bearing Is a Greater Crime Than Crime Committed."
Editing/Navdeep kaur
Shakeel Anjum- Cyber law consultant