Burning Up of the Blue Orb of life.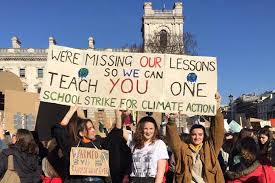 G.S.Gayathri:-
Burning Up of the Blue Orb of life
One of the biggest concerns of the sustainability of the world is now becoming real. It has been real since decades now, but it has not been talked about as much as it is now. Climate change is very much real, and it should not be neglected anymore. Climate change occurs when changes in Earth's climate systems result in new weather patterns. Human activities have hugely contributed to climate change. There are many instances to say so. It has been reported that, an exhausted female polar bear walked into the Siberian city in search of food. It is the first polar bear seen in the city in more than 40 years. This occurrence is very unnatural. The melting of Himalayas has resulted in rising sea levels. Greenland has already lost 2bn tonnes of ice in a day due to Glacial melt. Global warming in Africa is reported to inflict more droughts as well as floods. This is because of extreme outbreak of rainfall, which will result in storms and failure of crops. On the other end of Africa, the temperature is so high that it will lead to drought and famine. Arctic permafrost is now melting at levels which was not expected until 2090. This has led to the release of carbon dioxide beneath the atmosphere. The Mitribah, which is situated in Kuwait is accepted by the WMO as the highest temperature ever recorded in the continent of Asia. It is also the 3rd hottest country in the world. Pakistan and Kuwait are in the list of top 10 hottest countries in the world. Since both countries are very close to India, we are in danger too.
We have been playing with the climate mindlessly. We either suffer with too much rains or no rains at all. The cyclone Fani of Bhubaneshwar, Odisha, the landslides in Mussoorie, Uttarakhand, the floods in India, Japan, Nigeria and North Korea, earthquakes in Papua New Guinea and Indonesia, wildfires in Greece and many others. We are experiencing long and extremely hot summers. Protests have been initiated in many countries. Students around the world skip school to protest and demand action on the changing climate. Students walked out of the school from about 1,600 cities.
We must create a sustainable world not just for us but for many generations to come. We must decrease our carbon footprint as much as possible. Save electricity by monitoring the amount of electricity being consumed and reduce it to the minimum. Plant more and more vegetation. Just plantation of saplings is not enough. Proper care should be taken to nurture them into trees. Efforts should be made to remove carbon emission. Try making use of alternative energy sources including solar, geothermal, electrical and wind energy. Environmentalists are urging humans to practice the 3R's (Reduce, Reuse and Recycle) of sustainability. We have ignored climate change too much. It is time to wake up and educate our children otherwise our doomsday is not far away.