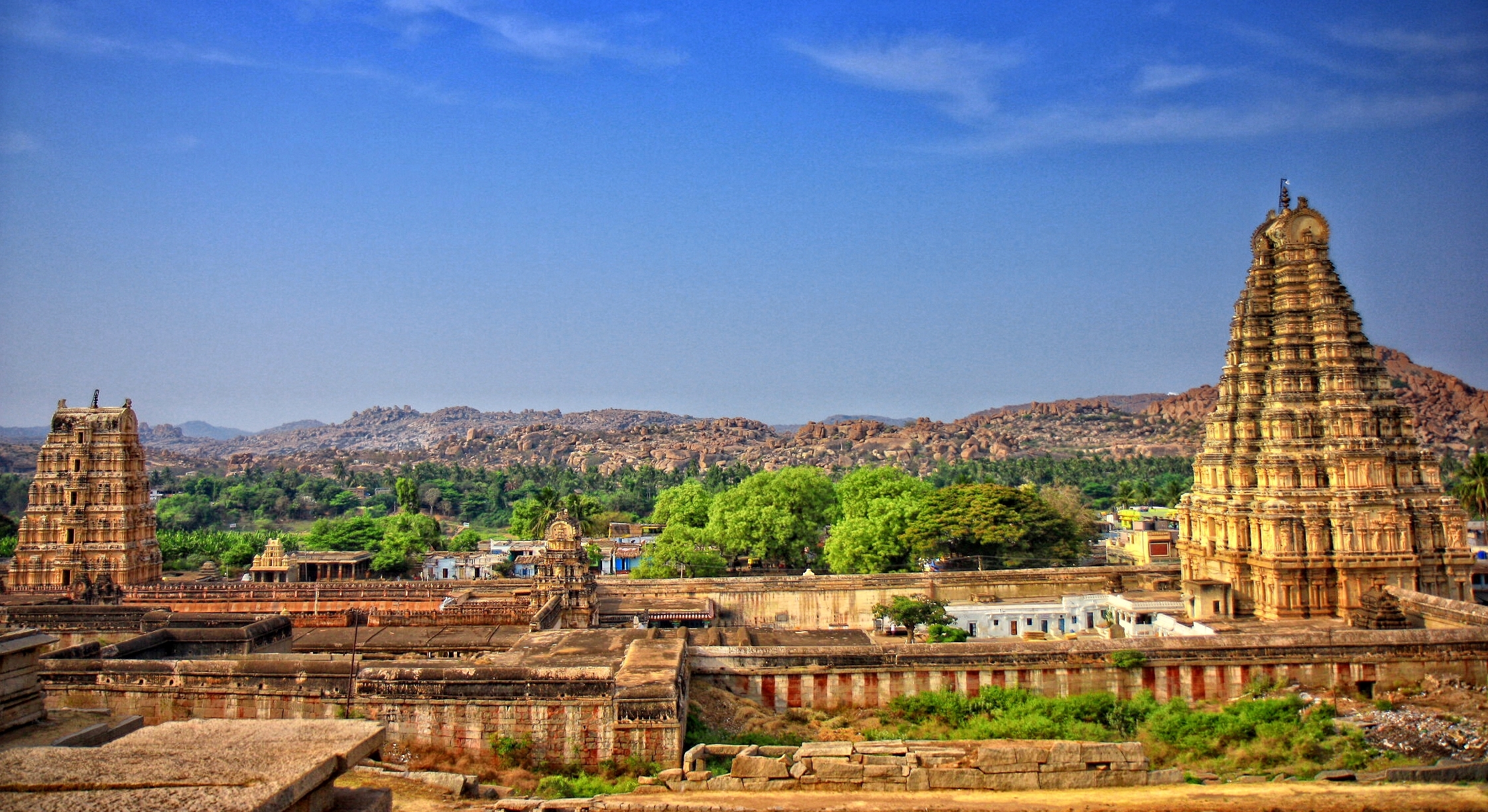 "You may be looking at ruins but it is not ruined at all
You may be looking at the labyrinthine carvings and then you
travel back in Medieval times with your pal."
Dates back, there was the city of romance and magnificent era whose essence can even be felt today – HAMPI is full of history and serenity, blessed with the divine, today it's a UNESCO World Heritage Site. One of Karnataka's beau idéal spread about 41.5 square kilometers; it is situated in the depth of hills and valleys and is an acme of perfection. It is geographically situated on the banks of the Tungabhadra River. And is 353 km from Bangalore.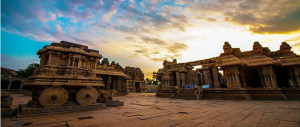 Hampi
Dates back 1500AD, Hampi was the capital of the Vijayanagara Empire, having spread to many acres. It was the safest place to start civilization because of being situated at the Bank of Tungabhadra River at one side and by mountains on rest of three sides. Hampi is a hub of an archeological site. It allures adventure seekers, architecture enthusiasts,
devotees and tourists all over from the globe. One can relish the stunning beauty of the city just by climbing the boulders with little effort. In order to reach there, you can take flights to Bellary domestic airport which is 60 km from Hampi and if you wish to take the rail route, the nearest railhead is Hospet only 13 kilometers away and is perfect for accommodation.
Hampi is a treasured pearl beyond price. It has a multitude of Hindu Monuments, Jain Monuments and Muslim Monuments upon which UNESCO says that it reflects a "highly evolved multi-religious and multi-ethnic society."
The major tourist magnetism is divided into two broad categories: The Hampi Bazaar and Royal Centre near Kamalpuram.
1. Virupaksha Temple,
In Hampi Bazaar, is built of small brick and mortar is believed to be an abode of Lord Virupaksha one of the forms of Lord Shiva. It is the oldest shrine and principal destination of pilgrims. And has tall towers or gopurams leading to inner sanctums. The only temple which wasn't destroyed by Muslim confederacy in 1565. The temple is a collection of smaller shrines. By the passage of time, reworking and refinements were done in shrines by Chalukyan King, Hoysala King, and King Krishnadeva Raya.
                                                                                          Virupaksha Temple
2. Hemakuta Hills
It stretches between the Virupaksha Temple and the Krishna Temple. It is lined by ruins of secured walls, Jain Temples, the sculpture of Lord Narasimha and broken pathways. Among them, Hemkuta Hill Temple Complex is most prominent to visit.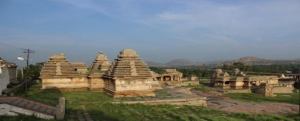 Hemakuta Hill Temple Complex
3. Vijaya Vittala Temple
It is the most artistically sophisticated Hindu Temple and holy center of Vijayanagara is the Vijaya Vitthal Temple. It is a 15th-century gargantuan structure which is devoted to Lord Vittala- an incarnation of Lord Vishnu. The extraordinary carvings are true embodiments of the bewitching architecture of centuries-old Vijay Vittala Temple. It's believed that the outer pillar generates music on being tapped, also known as musical pillars.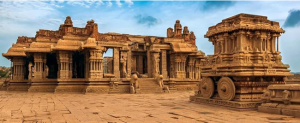 Vijaya Vittala Temple
4. In Hampi Bazaar
One can see abandoned Sule Bazaar and Achyutaraya Temple which is having inscriptions dated back in the medieval period. One could also find a monolithic colossal statue of Lord Narasimha, Lord Ganesha, and Nandi too. Krishna Temple is also a masterpiece and a part of Hampi Complex. In this Bazaar, there are multiple colorful carvings of Lord Hanuman too.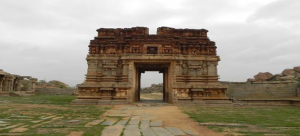 Achyutaraya Temple
5. The Vijayanagara Empire
It also consists of architectural splendor achieved by the artisans of Ganagitti Temple Complex and Ahmed Khan Mosque and tomb.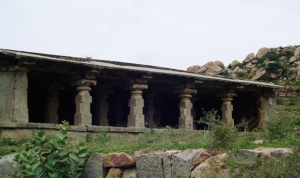 Ahmed Khan Mosque
6. Hazara Rama Temple,
The 15th-century shrine depicts artifacts of the prevailing divinity of the temple. There are the narrative sculptures of Lava- Kush Story. The inscriptions of shrine enounce the mythology of Ramayana. The similar shrine is also present within the temple and depicting multiple epic wall carvings related to Rama,
Lakshmana, Sita, and mythology of Ramayana.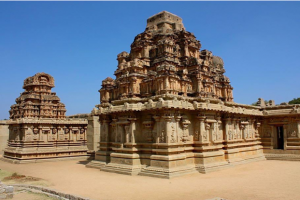 Hazara Rama Temple
-The area which stretches between Hampi Bazaar and Kamalapuram covers the Royal Center of Hampi. Like the sacred area or the Hampi Bazaar Area, there are also many treasured gems of architecture in this area.
Starting from Lotus Mahal, a place which stands out for it's intricately designed pavilion known as
Zenana Enclosure,
A separate area used by royal women of the Vijayanagara Empire. This Lotus Mahal is having splendor architectural synthesis of Hindi and Islamic styles. It gets its name because of the structure of the vaulted ceilings.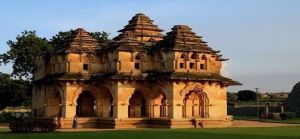 Lotus Mahal
Another grandeur architect is the
Elephant stables,
which is adjacent to Zenana Enclosure. It's for those who love to go back in time and adore history. It is an ancient splendor having 11 chambers along with one tranquil center garden, arches, and elaborate carvings.


                   Elephant Stables
Unique Islamic architecture is the
Queen's bath
The beauty of this rectangular pool is speculation which astonishes one due to its highly sophisticated art of construction. The archeological museum also has a good collection of sculpture and assorted antiques of the Vijayanagara Empire. The museum is open throughout the week except on Friday.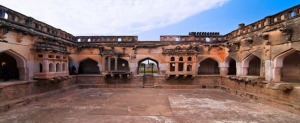 Queen's Bath
The ruins and lost monuments of Hampi have a magical quality of entrapping the visitors in the views and make them spellbound with the splendor all around. But in present milieu, there need to protect them from becoming sand, to persevere the beauty of ancient times. So that future generation could also savor the taste of this beauty. These enthralling carvings leave an indelible impression on the minds of viewers forever. So a visit to Hampi gives a "joy forever."