Alert! Grifters luring more and more under government schemes.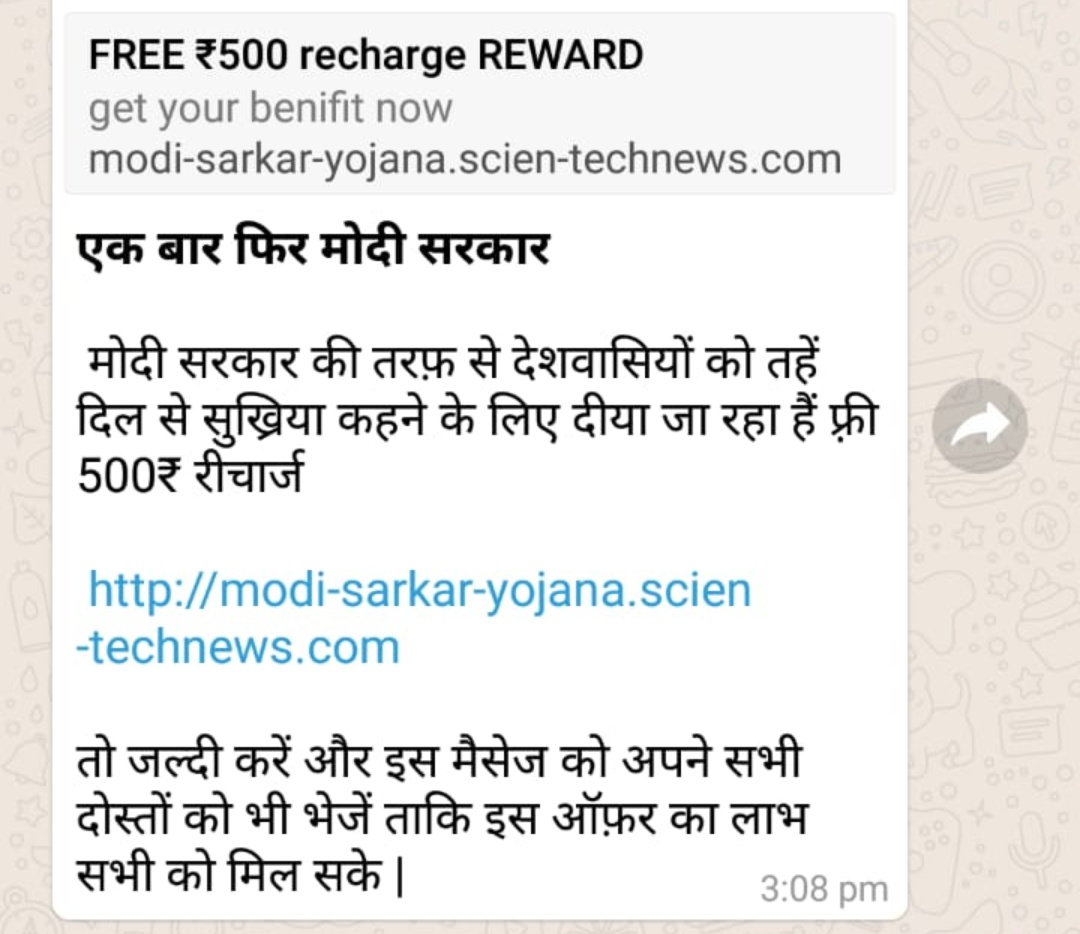 The hoaxes of social media:
Viddhi Patel:-
Free laptop, Aayushmaan Bharat Yojana (National Health Protection Scheme), Atal Pension Scheme, Free Solar Panel, Pradhanmantri Awas Yojana (Housing for all) and distribution of 2.5 lacs for the same is a common bait now. Websites forwarded through messages demand registration which will benefit them if filled before the limited period.
The greed for government schemes benefits have led to the revelation of intimate data to scamsters.
The credulous masses might fall right into the trap of grifters.
The digi-era is here and everyone is a part of social media. Amidst the modernized socialization, the naïve attitude of users might lead them to a grave danger. Alongwith online banking the threat to online frauds is also increasing. Counterfeits are huffing in personal data by attracting people through government schemes and well-groomed offers.
THE THRUTH: There are no such schemes formed by the central government. Interestingly these ingenious con men trap people into registering information in the forwarded forms. The messages with links shared through apps and other mediums lure the greed of people into filling the forms. To make this sites more tempting they even started using the credibility of government officials. Clever hackers are now able to break into the personal data, when for a matter of fact there exists no free laptops, solar panels, and recharge facilities by the central government. The deceivers are forming such messages and circulating them on Whatsapp and email to burgle out money.
The schemes that no longer exist are used as a token to deceive.
Case 1: 13 September 2018 Khajrana Police arrested Shahida and Neetu on the basis of deception complaint filed by Bahadur Khan. The accused reportedly lured money out of Bahadur Khan in the name of Pradhanmantri Awas Yojana. The accused conned many more by showing false receipts.
Case 2: Mukabdhir Tanuj Khare and Saket Jha were duped of 40,000 INR. He was promised of a job with remuneration of lacs per month on a American cruise through a Facebook page. Security finance, visa and other procedures were also shammed which convinced him to transfer money, the police is investigating the case.
DIFFERENTIATE the LEGITIMATE and ILLEGITIMATE through:
Central government or the Council of States (Rajya Sabha) has made no provisions of free solar panels, free recharge. They are only bogus traps formed by hackers. The legitimacy of a government site can be checked by domain extensions like .gov or .nic. Most of the times only the names of these schemes lead people to reveal their data.
MOBILE/LAPTOP IN DANGER.
According to cyber expert Shakeel Anjum clicking on these links lead to a virus ingress in our mobile or laptop. The virus hence gets installed in the electronic devices. These leads to the disclosure of data to the counterfeit. Bank accounts are hacked and money is debited without the knowledge of account holder.
SARDONIC MESSAGES LIKE THE FOLLOWING ARE CIRCULATED:-
Make in India- the second time winner of general elections NaMo is distributing free laptops to 2 crore youngsters. 30 lakh teens have already been credited, next is you.
Recharge of 500 INR- The arrival of NaMo as Prime Minister for the second time, Modi once more. On this auspicious occasion NaMo wishes to thank all supporters with a mobile recharge of 500 INR.
Solar Panel- Prime Minister Solar Panel scheme provides you with a free solar panel installation in your house at zero expense, all you have to do is fill the form. Hurry, the last date is near.
PMYAK and 2.5 lacs- Lining the celebration of NaMo appointed as Prime Minister once more, every citizen will get 2.5 lacs to build their own house. Many have been lucky, next is you.
DON'T do the following when you receive such messages with untrustworthy links.
Do not click on the link.
Do not install apps recommended by strangers.
Do not forward such messages without confirming the credibility yourself.
Cyberpunks may use this data for inappropriate causes.
Gmail or any other business email id passwords if hacked can lead to duping of money from the user's friends.
D.O.B., mother's name may also be used to hack into accounts.
Do not share your personal details through social media or any online medium to anyone.