A National Park that deserves the Country's attention

While there have been talks about criticism against the Finance Bill, the ICJ Verdict, Indian Cricket, Athletics,Politics, Communal violence, all has been forgotten about the fate of North East India and Kaziranga National Park.
Kaziranga? Now, where is that?
Kaziranga National Park is a UNESCO World Heritage Centre.
Situated in the district of Golaghat and Nagoan in North-Eastern state of Assam. Surrounded by Brahmaputra River on the North and the Karbi Anglong mounts in the South, the park offers a splendid scenic sight. It is noteworthy to mention that it is the host for two third of world's population of endangered Indian one-horned rhinoceros and also declared as a tiger reserve in 2006, holding the highest density of tigers in the world.The Tropical moist mixed deciduous forests and tropical semi-evergreen forests is marked by the 41% of the tall grasses, 29% open jungle, 11% short grasses and rest is covered with the rivers and the water bodies. Its breathtaking array of flora and diverse fauna adds value to the scenic beauty of the park.
How many of us can visit in a few days from now? None.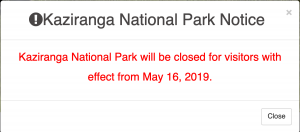 Now, this might even be until mid August. Why?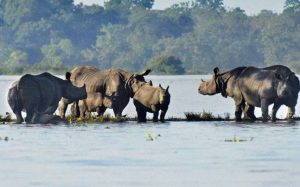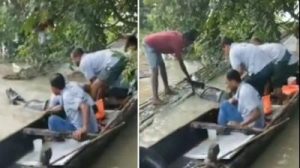 Do you still think its just another issue to be neglected?
Not just highly endangered animals, humans too are affected.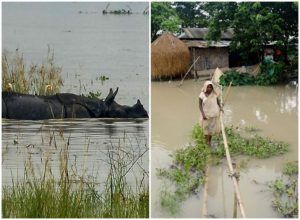 About 70 per cent of the Kaziranga National Park, the habitat of the Great Indian Rhino and a world heritage site, has been affected.
Meanwhile, Prime Minister Narendra Modi called Assam Chief Minister Sarbanad Sonowal to take stock of the situation.
Sonowal briefed PM Modi about the current situation and informed that 31 of the state's 33 districts were hit by the current spell of floods. Modi assured Sonowal of all assistance from the central government in dealing with the situation. The deluge in Assam has claimed 11 lives this year while millions are affected.
On Saturday, the chief minister had briefed Home Minister Amit Shah about the flood situation in Assam. Shah directed the National Disaster Response Force and other agencies to provide all necessary help to the flood affected people.
But, what about the rest of the country?
Are we doing our bit to help our fellow countrymen? Or are we still more interested in what a celebrity wears today, what they speak and the latest discounts or sales.
We all stood united for the Kerala floods. Why not here too?
Not just humans but a whole National Park could get submerged and become non-existant. We need to spread awareness and make sure help reaches the people and ofcourse, the animals who may even become exintict.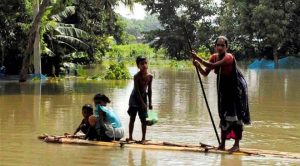 If you still don't feel anything tugging at your heart –
Why is that we lack Empathy when it is needed the most?
For all those who can, please send all help. We need to protect these animals, their survival is most important for the maintenance of our already declining ecosystem.
Yes, climate change, pollution and global warming has been much talked about.
What about after the talks?

Do people still throw trash in tourist spots?

Even throwing tiny chocolate wrappers into a closeby water body makes an impact.

Will people stop spitting paan on age old monuments?
When will we realise the end of the world will be near if we don't save of what is left?
We must act responsibly.
Sitting at homes, far from reality even though we come across it everyday is not just ignorance, it is foolishness.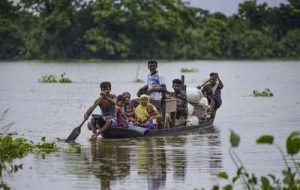 Do visit these websites to help out the flood victims.