Wonders of ATM to secure safe banking.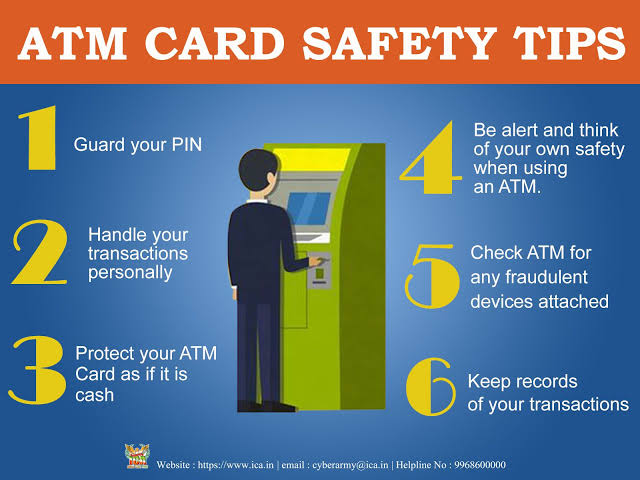 Nirmeeti Patole:-
After demonetization, most of the people keep their savings in the bank itself. ATM card is made accessible by the bank for all. It can be used for online transactions. In today's world of digital media and tele- communications, if cash or form of payment in hand is not present, then customers can still make the purchase. Card-Not-Present is a type of virtual transaction that happens when both cardholder and the credit card are not physically present. CNP transactions are popular but expensive. Online buying or purchasing through e-commerce sites can come under CNP transactions.
Point of Sale (POS) is another type of transaction which is beneficial for merchants to generate the bills and accept the payment from customers. POS system makes the transactions simple for merchants in healthcare, restaurants, shops etc.
80% people use ATM card just for withdrawal of cash and are unaware about its distinct features. Most of the people don't know that online shopping could be done through ATM and it isn't necessary that the ATM card should be physically present near the user. The number of ATM card and the OTP which arrives on the registered mobile number is enough. There is a by default provision of online transaction and card swipe on ATM cards, which is very reliable system. There are some folks who don't prefer to go for online transactions through their own ATM card and rely on others. In fact, discounts and attractive offers are provided on online dealings. People choose 'Cash on Delivery' while online shopping for safety of their investments and savings.
There are certain banks which have introduced the facility of managing the ATM card for the protection of their customers. Internet banking users of State Bank of India (SBI) can totally manage their debit card in many forms like closing the Merchant POS Transaction, terminating the Card Not Present (CNP) system. In the same way, with the help of iMobile app, users of ICICI bank have been guaranteed the facility to block their Debit card. Paytm also provides this same facility to their customers.
In order to make best out of your ATM card and avail the safety measures, following are the suggestions that one needs to consider:
Account holder must take Internet Banking.
As per your convenience, the card can be activated when you want to use it.
Don't worry when your card is misplaced. You can immediately block the card then and there.
Link your mobile number to the bank account as soon as possible.
These were some of the tips. I Hope these suggestions would help you. Hence wonders of the ATM card are many and can be experienced through proper communication and coordination with the bank as well as by being aware of the technological developments.