Opinion dismembered to conviction! Too filtered of a bubble?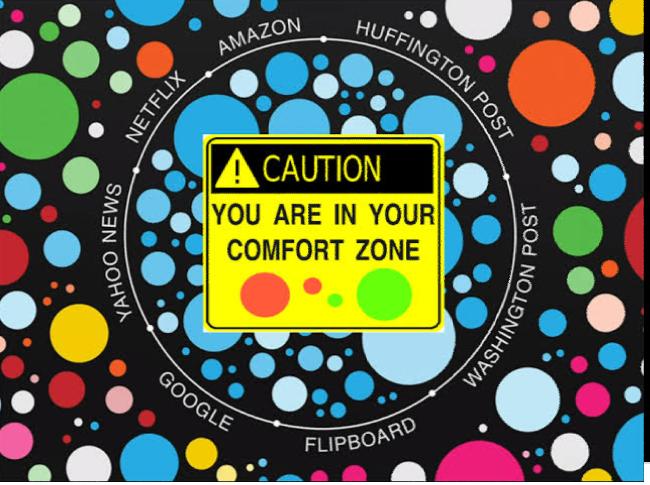 By Viddhi Patel:-
The filter bubble is now at its peak and the peak is turning only sharper every minute, every second. The world for us is now varnished as we want it, With glitters and sparkles of the colors we like. It is a faux wonderland we are thriving to fit in and we might even just perfectly. While Instagram and Facebook are subtly moulding us into beings that crave attention and sculpting us into socially anti-social. Embellishing us with products we don't need. Google is apostatizing us from any other results but the ones that will flatter us, our taste, our opinion and, our thoughts. Denigrating all other opinions to ashes.
They are turning us into bots, bots who think they are living their life with their rules. Inefficacious to realize they are running errands for someone who wants profit and another someone who is bestowing the means of profit through channelling all their powers into studying you, your every move. The bubble was meant to serve us, to connect us but the pleasure made us wary of what the actual outer world held.
Argus Panoptes was a monster with a hundred eyes and a servant of Zeus. He was asked by Hera, Zeus's wife to guard lo, a cow, who was a former mistress of Zeus. Argus does so by tying her to a tree. To save lo, Zeus sends Hermes to end Argus. Hermes lulls him to sleep by telling stories, playing music and also by the use of his wand, caduceus. Then eventually kills him.
Panoptes literally translates to "all-seeing" and "watching closely". While crashing in a filtered bubble we haven't yet seen the Argus in our lives, have we? "the eyes of Argus" are still around. It is just not "Argus" anymore but blimey if it is any less ghoulish. A million times more, eerie right?
Ironically it was originally appointed for help but later turned to be a tab keeping scrutinizer who has to gander the one it protected. But this giant is neither sleeping nor is it ever going to die. Although we might hope for Hermes to swoop in and save the day. We have accepted a life without liberator. We are okay to be tied to the tree, being sentinelled, sentinelled by greed and intention being driven real giants like Hera. We act like … wait, we don't act at all, in the meantime, our Argus is growing every day and ever more serpentine.
Tech giants are vigilant of our every move. when we wonder maybe ads read our chats maybe they did. And maybe, just maybe we have to be on the qui vive for more than just what they are showing. They watch us like the creepy person we denied our consent, our heart, our very intimacy and, personal space and no matter how much we ignore they won't go away. Moreover, we don't even know they prevail that they are always there, which is even creepier.
Maybe we too need the stories, in this case, our voices filled with utter disgust on violation of privacy, the most humane decency. Cause, this is real and no Hermes is swooping us off of our misery. We are our very own Hermes. Our caduceus is our strength to realize what's beyond the bubble. Our panpipe is our modish move to go techy against the techs. The only way we can put Argus to sleep is if we get the dexterous Hermes inside of us out.
So, the next time you see an ad you thought of only in your mind, it might not be a coincidence. Ineptly, they know more about you than you know. They are in your subconscious or maybe they are your subconscious.
Echo chambers are fashioned and thrive with what you scrolled through and what you "liked" on your feed be it any of the three giants Facebook Instagram or Google. Breaking-through this commendatory chamber where everything seems tantamount to the authentic world can happen only when we are ardent to accept what is outside, an eminently potential wrong. When you fortify yourself to make the prerogative move and see the other sides about the same story and form an au courant truth, a more learned truth. A TRUTH that is not built on just some algorithms that define you, the truth that YOU formed by dementing the algorithms. Cause under different conditions everyone will be smack-dab with stalwart opinions without actually knowing the whole, bigger story; jeopardizing antagonistic perspectives and democracy. Opinions will turn to conviction.
This the time that opinions matter the most, the CAA riots, the anti-NRC slogans, these exist due to opinions. But let that opinion be yours, not the fruit of a lopsided Google result.