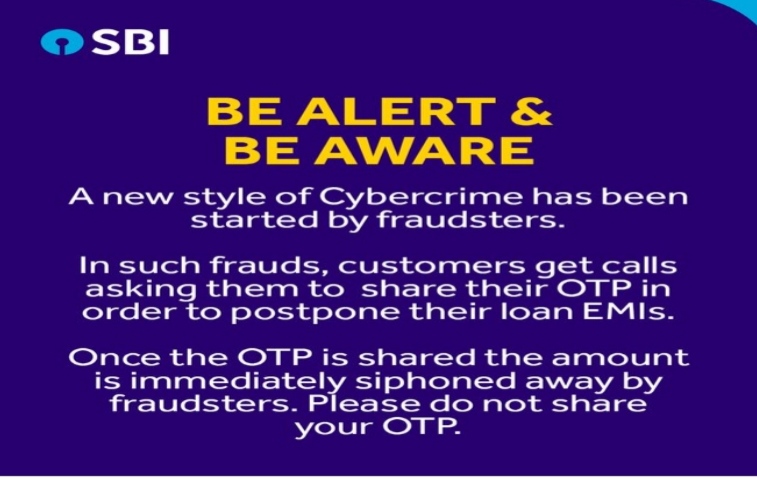 EMI MORATORUIM FRAUD
-by Arju R. Jambhulkar
The era of coronavirus lockdown leads to increase in lots of cyberfrauds and different cybercrimes. EMI stands for equated monthly instalments and as per Investopedia it's a fixed payment amount made by a borrower to a lender at a specified date each calendar month. Moratorium period refers to the period of time during which you do not have to pay an EMI on the loan taken, also known as EMI holiday. In such fraud's customers get calls asking them to share their OTP in order to postpone their loan EMIs. Once the OTP is shared the amount is immediately siphoned away by fraudsters. The period of corona virus lockdown is being misused by the fraudsters and such cyberfrauds has been increased in this time.
Process to do the fraud
The scammers try to gain access to borrowers' banking details as they request OTP or other forms of passwords claiming to help them postpone EMI payments. People receive calls from call centres asking them to share their bank account details to avail moratorium on their home loan EMI. The point to remember here is that no bank will ever call you upfront asking for your bank details like OTP, CVV, password or PIN, for providing a moratorium on the EMI and gullible people end up sharing their sensitive financial details and are made to click on links that immediately cost them money. Elderly and lesser-educated people are profiled by fraudsters as people who aren't tech-savvy and take the decision in haste.
SBI EMI Moratorium Fraud
The largest bank of India has communicated to its home loan, car loan, bike loan and other loan borrowers to avoid calls where the caller poses himself or herself as SBI officer and asks for whether they want to avail the SBI EMI moratorium or not. After getting answer to their question, the fraudsters ask the SBI customer to reply to the SMS they would be getting. This can be either sharing the OTP coming through a text message or clicking on the link coming in through the SMS. In both circumstances, SBI loan borrowers fall prey to the cybercriminals. The bank also said that the SBI EMI moratorium guidelines are available on the official website of the SBI — onlinesbi.com or sbi.co.in. The SBI EMI moratorium seeking loan borrowers can go to these official SBI websites and let the bank know about their priority.
By calling to the SBI or any other bank customers as bank officials asking them whether they want EMI moratorium or not, actually they are executing the malware phishing, where they would either ask for your OTP or force you to click on a given link. Once the customer does
this, entire data of the bank customer including bank account number, customer ID, date of
birth, Aadhaar Card number, PAN card number, etc. This information is enough to execute online bank fraud and these pseudo bank officials asking SBI EMI moratorium seekers to share OTP or click on a link are trying to do the same.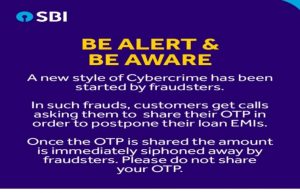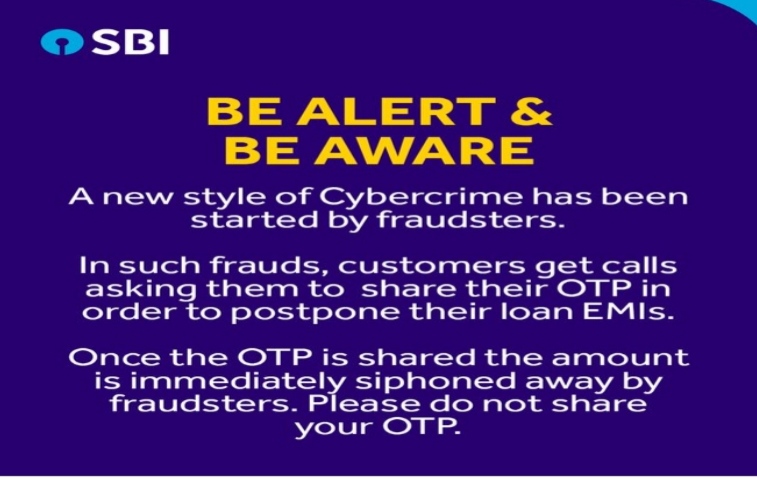 Relief by Reserve Bank of India
To provide relief to borrowers facing financial crisis due to loss of income after economic activities came almost to a standstill following imposition of the nationwide lockdown to contain the spread of highly contagious Novel Coronavirus Covid-19, the Reserve Bank of India (RBI) has declared an EMI moratorium, which allows a borrower to postpone loan repayments for 3 months. The Reserve Bank of India (RBI) announced an extension of the moratorium on loan EMIs by three months, i.e. till August 31, 2020 in a press conference dated May 22, 2020. The earlier three-month moratorium on the loan EMIs was ending on May 31, 2020. This makes it a total of six months of moratorium on loan EMIs starting from March 1, 2020 to August 31, 2020.
Deferred instalments under the moratorium will include the following payments falling due from March 1, 2020 to August 31, 2020: (i) principal and/or interest components; (ii) bullet repayments; (iii) Equated Monthly instalments; (iv) credit card dues. It is likely these will continue for the extended period of the EMI moratorium.
However, cyber attackers are now cashing in on the opportunity to defraud borrowers willing to take advantage of the moratorium. This has forced multiple banks and financial institutions to warn their customers to protect their banking information against the EMI Moratorium Frauds.