Are You Aware Of The Types Of Cyber Crimes You May Get Trapped In?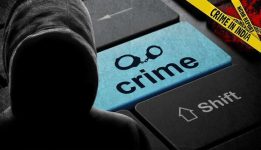 Internet has given man easy access to everything while sitting at one place. Internet is used in almost every sphere. With the development of the internet and its related benefits also developed the concept of Cyber Crimes.
WHAT ARE CYBER CRIMES?
Cyber Crimes can be defined as the unlawful acts where the computer is used either as a tool or a target or both.  Cyber Crime is a broad term that is used to define criminal activity in which computers or computer networks are a tool, a target, or a place of criminal activity and include everything from electronic cracking to denial of service attacks.
DIFFERENT TYPES OF CYBER CRIMES:
1. Unauthorized Access and Hacking:
Unauthorized access means any kind of access without the permission of either of the rightful or person in charge of the computer, computer system or computer network. Hacking means an illegal intrusion into a computer system and/or network.
2. Web Hijacking:
Web hijacking means taking forceful control of another person's website. In this case the owner of the website loses control over his website and its content.
3. Pornography:
Pornography means showing sexual acts in order to cause sexual excitement. The definition of pornography also includes pornographic websites, pornographic magazines produced using computer and the internet pornography delivered over mobile phones.
4. Child Pornography:
Computers and internet having become a necessity of every household, the children have got an easy access to the internet. There is an easy access to the pornographic contents on the internet.
5. Cyber Stalking:
Cyber Stalking means repeated acts of harassment or threatening behaviour of the Cyber Criminal towards the victim by using internet services.
6. Denial of service Attack:
This is an attack in which the criminal floods the bandwidth of the victim's network or fills his e-mail box with spam mail depriving him of the services he is entitled to access or provide.
7. Virus attacks:
Viruses are the programs that have the capability to infect other programs and make copies of itself and spread into other program. Programs that multiply like viruses but spread from computer to computer are called as worms.
8. Software Piracy:
Software piracy refers to the illegal copying of genuine programs or the counterfeiting and distribution of products intended to pass for the original.
9. Salami attacks :
The key here is to make the alteration so insignificant that in a single case it would go completely unnoticed.
10. Phishing:
Phishing is the act of sending an e-mail to a user falsely claiming to be an established legitimate enterprise in an attempt to scam the user into surrendering private information that will be used for identity theft.
11. Sale of illegal articles:
This category of Cyber Crimes includes sale of narcotics, weapons and wildlife etc., by posting information on websites, auction websites, and bulletin boards or simply by using email communication.
12. Online gambling :
There are millions of websites; all hosted on servers abroad, that offer online gambling. In fact, it is believed that many of these websites are actually fronts for money laundering. Cases of hawala transactions and money laundering over the Internet have been reported.
13. Email spoofing :
Email spoofing refers to email that appears to originate from one source but actually has been sent from another source. Email spoofing can also cause monetary damage.
14. Cyber Defamation:
When a person publishes defamatory matter about someone on a website or sends e-mails containing defamatory information to all of that person's friends, it is termed as cyber defamation.
15. Forgery:
Computers, printers and scanners are used to forge counterfeit currency notes, postage and revenue stamps, mark sheets etc. These are made using computers, and high quality scanners and printers.
16. Theft of information contained in electronic form :
This includes theft of information stored in computer hard disks,removable storage media etc.
17. Email bombing :
Email bombing refers to sending a large number of emails to the victim resulting in the victim's email account (in case of an individual) or mail servers (in case of a company or an email service provider) crashing.
18. Data diddling :
This kind of an attack involves altering raw data just before it is processed by a computer and then changing it back after the processing is completed.
19. Internet time theft :
Internet time refers to usage by an unauthorized person of the Internet hours paid for by another person.
20. Theft of computer system :
This type of offence involves the theft of a computer, some part(s) of a computer or a peripheral attached to the computer.
21. Physically damaging a computer system :
This crime is committed by physically damaging a computer or its peripherals.
22. Breach of Privacy and Confidentiality :
Privacy refers to the right of an individual/s to determine when, how and to what extent his or her personal data will be shared with others. Breach of privacy means unauthorized use or distribution or disclosure of personal information. Confidentiality means non-disclosure of information to unauthorized or unwanted persons.
23. Data diddling:
Data diddling involves changing data prior or during input into a computer. The information is changed from the way it should be entered by a person typing in the data, or anyone else involved in the process of having information stored in a computer file.
24. E-commerce/ Investment Frauds:
An offering that uses false or fraudulent claims to solicit investments or loans, or that provides for the purchase, use, or trade of forged or counterfeit securities. Merchandise or services that were purchased or contracted by individuals online are never delivered.
25. Cyber Terrorism:
Targeted attacks on military installations, power plants, air traffic control, banks, trail traffic control, telecommunication networks are the most likely targets. Others like police, medical, fire and rescue systems etc.
Article By- Harshita Jain
Editing By- Jasleen Kaur