Alert !! Cyber ​​in the name of electricity connection cut or bill update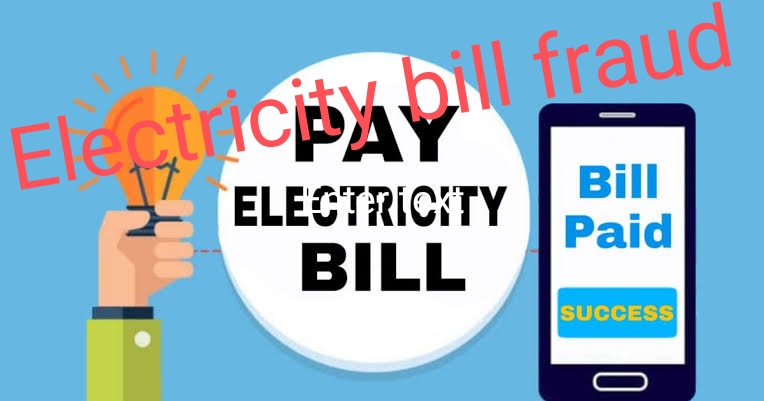 Cyber ​​in the name of electricity connection cut or bill update
method of crime
This method of cybercrime is very popular from last few months in which a message will come on your mobile/whatsapp message by cyber thugs indicating that your electricity connection will be disconnected tonight as your last due bill is not updated For more information / bill payment call the mobile number given below or click on the link given below. In this way, the person suffering from the fear of power cut, calls / clicks on the above given number / link, after that the person in front will talk to you by becoming an electricity officer and in the name of registration, you will be able to access the remote accessing app (like QUICK – SUPPORT, TEAM VIEWER will ask you to download ANYDESK ETC (APP) and then you will be asked to pay Rs.1 for registration by enabling net banking on your mobile. During the payment of Rs.1, he sees the net banking and password of your mobile, after which he disappears the full amount from the account in a moment.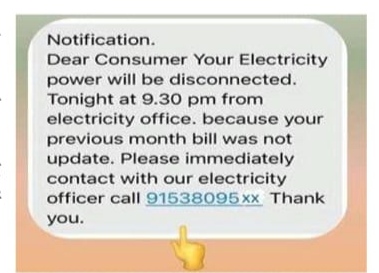 Example
Notification.
"Dear Consumer Your Electricity power will be disconnected. Tonight at 9.30pm from electricity office. because your previous month bill was not update. Please immediately contact with our electricity officer call 91538095xx Thank you."
Some important things to be kept in mind to avoid this type of crime are:-
Ignore any message/link of this nature.
Do not install/download any remote accessing app on the advice of any unknown person.
● Avoid searching the customer care number of any institution / company bank on Google, always visit the official website only.
√ Avoid sharing OTP with any unknown person.
IF YOU ARE VICTIM OF CYBER CRIME, DIAL 1930 AND REGISTER YOUR COMPLAINT AT WWW.CYBERCRIME.GOV.IN OR REGISTER YOUR FIR AT NEAREST CYBER STATION / CYBER CELL.