A wish to become famous by sending death threats to Delhi CM goes unfulfilled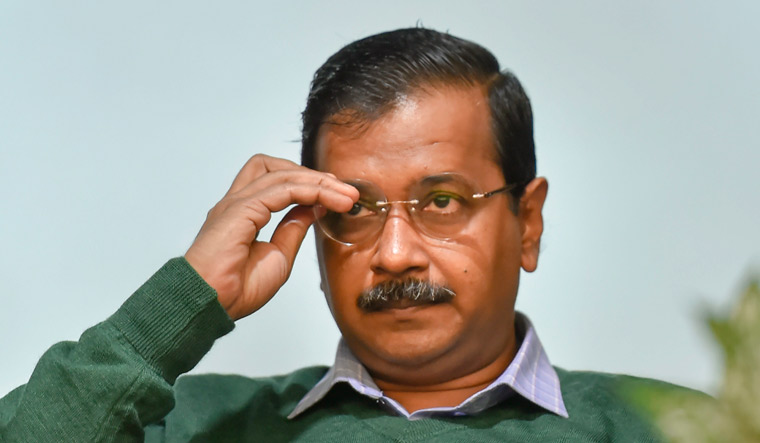 Nirmeeti Patole:-
It is true that instant fame and name by doing something wrong leads the boat to sink and lands in an incorrect direction. A delivery boy from Nalasopara experienced this quick fame and was put behind the bars on August 9,2019 .Through emails, he committed the crime of sending death threats to Delhi Chief Minister Arvind Kejriwal. The accused, Abhishek Tiwari, with the help of technological developments planned this conspiracy. But his wish of becoming famous remain unfulfilled.
The official Twitter handle of Delhi's Deputy Commissioner of Police, Cyber Crime Cell stated that the accused also troubled a national political party and blackmailed it. He claimed to destroy the party's headquarters in New Delhi via bomb. Abhishek Tiwari was associated with a furniture firm in Mumbai and used to work as a delivery boy over there. He was not happy with his job and wished to do something big so that he could grab the attention of people.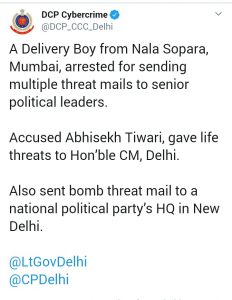 Authorities in the CM office conveyed this issue to the Cyber Crime unit and soon the cyber police started detailed investigation. They traced the location and the address of the accused. With the help of IP logs, connected mobile phone and base of the email, different teams of the police carried out an extensive search in cities like Mumbai and Kanpur. All the technical information and data was gathered but the police, initially faced difficulties as the criminal went underground.
After a long search process, Nalasopara was the exact location found. The accused was caught hold from a chawl at the most crowded area in Mumbai. Reports reveal that the criminal had attempted to send such threats to local Municipal officers in Mumbai buy that yielded undesirable results. Hence, he decided to target national level politicians and attain glory. Arvind Kejriwal was on his wish list and planned to threaten him.
The plan to create a fear factor in a national political party's headquarter in New Delhi through bomb failed miserably and he was trapped by Cyber Police. Though the criminal has been arrested, further investigation and analysis is being processed.